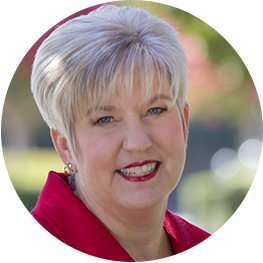 Chief Executive Assistant – Cisco Systems
Debbie Gross, CEA, has over 30 years of experience in the administrative field. She joined Cisco Systems in March, 1991 as the executive assistant to John Chambers, then Senior Vice President of Worldwide Operations. As the company grew from $1.2 billion in annual revenues to over $46 billion, her responsibilities grew together with Chambers. In 1995, when Chambers became President and CEO, Debbie Gross assumed the lead role leading Cisco's global 1000+-person administrative team.
She is considered a leader in the promotion of Cisco administrative programs that include the creation of the Administrators Leadership Council (ALC) which focuses on initiatives for the Cisco global administrative community. This includes Rewards and Recognition, Career Development, Mentorship, and process and policy improvements.  She is a member of the California UCSC Extended Campus Board for Curriculum Development, and is a Guest Lecturer for the Administrative Professionals programs there.
She is one of the original founders of the SVCA (Silicon Valley Catalysts Association) which is a 25member organization of Executive Assistants who support CEO's in the Silicon Valley.
She has participated as a keynote speaker and trainer focused on Administrative Professionalism for such companies as Synopsis, SAP, Symantec, City of San Jose, IAAP, and the Executive Secretary Live Conference held in London and in Dubai. In addition, this past year she was the recipient of the Colleen Barrett Award for Administrative Excellence, the highest award given by the Admin Awards of Silicon Valley.
She was born and raised in Jackson, Miss.   Loves golfing, mountain biking and karaoke singing on the weekends.
---
General Session:                                                                                           
"No Limits" Going Beyond The Administrative Role
Thursday, October 19, 2017 | 1:30 – 2:15 p.m. 
As Chief Executive Assistant to John Chambers, now Executive Chairman of Cisco, I have often wondered why we as administrative professionals tend to put "limits" on ourselves in so many ways.  Our own mindsets keep us from being all that we can be in this profession and in life itself.
Given the passion I have for the administrative role for well over 30 years, as well as being a certified Star Achievement Trainer, I will share my observations of those I have taught, coached and mentored, as to why we do this to ourselves.  I will show you how a simple shift in thinking can enable us to see that there are "No Limits" to:
What we can do for ourselves to build greatness in our roles
What we can bring to our teams to produce amazing accomplishments
What we can initiate in terms of our partnerships to become indispensable and recognized
Above all, proving that there really are "No Limits" to where we can take this profession!