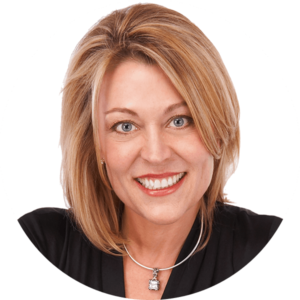 Colette Carlson, founder of Speak Your Truth, Inc. is a human behavior expert, author and humorous keynote speaker who shares the tools, terminology and techniques that encourage people to excel. Clients include Boeing, Microsoft, Procter & Gamble and the United States Government.  With a masters in Human Behavior and a fascination with communication trends, Colette delivers the latest research letting the facts support the fun. She writes a monthly column for Business Management Daily and has been featured in Success and Working Mother magazines. Colette is a Certified Speaking Professional (CSP), a designation held by fewer than 10% of the members belonging to the International Federation for Professional Speakers.
Colette learned her message the hard way. She started out a big liar. Literally! Only by telling the truth on herself and admitting her fears did she break through her complacency, lose 50 pounds, and step into a bold, commission-only sales livelihood. She quickly ascended to become the #1 producer for sales legend Tom Hopkins, later joining Brian Tracy's organization, and thereafter becoming a National Sales Trainer. Laugh and learn with Colette as you step in the Truth Booth and receive the tools to create positive, long-lasting change. Learn more at ColetteCarlson.com
---
Session: Step Up and Speak Out!
Revolutionary assistants rarely sit back, complain and wait for situations to change. Rather, they proactively step up and speak out to bring about necessary change. Only when you choose to become courageous in your conversations will you break through self-imposed barriers and maximize your productivity, connections and results. Gain the credibility, cooperation and respect you deserve by learning how to:
Reset your mindset to step up, show up and speak out with strength
Take control or let it go
Strategize for a critical conversation that delivers positive outcomes
Use clear and direct language to get what you want – the first time!
Ask for what you need to succeed
*This session will not be included with Conference On Demand and will only be available to the live audience.