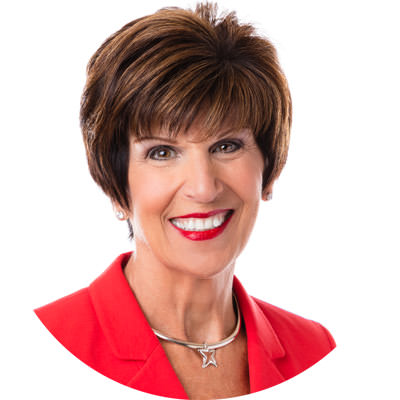 Event Hostess, Founder and CEO of Office Dynamics International
Joan Burge is known as the red-lipstick-wearing "Rock Star" of administrative and executive assistant training and a successful entrepreneur who created a unique niche in 1990 by founding a training company that would uniquely provide sophisticated, robust educational programs and information to administrative professionals.
Joan is an accomplished author (8 books), professional speaker, consultant and corporate trainer. She is the creator of The Annual Conference for Administrative Excellence™; World Class Assistant™ Certification course; Star Achievement Series® Certification and Designation course; 30+ customized workshops, 200+ educational videos, 150+ articles and nearly 1,000 blog posts for executive and administrative assistants.
Her company, Office Dynamics International, is a global industry leader which offers a broad range of solutions and provides high-performance, sophisticated executive and administrative assistant training and coaching. One thing is clear: Executive assistants, their executives, HR business partners, administrators, and managers have come to rely on Office Dynamics International, because "only Joan is Joan."
Joan Burge is an original; the foremost expert in the demanding field of management support. She put in the hard work and high investment required to earn the reputational excellence and uncompromising trust of leaders in business. She illuminates through her empowering teaching, building better work relationships between executives and their assistants.
Joan's never-ending quest to provide top-notch educational programs has earned the respect of premier clients like Cisco Systems, AT&T, Kindred Healthcare, The Boeing Co., Humana Inc., Sunoco, Nokia, Procter & Gamble, Nationwide Insurance and Chevron.
---
OPENING SESSION OVERVIEW: The Stellar Assistant
Wednesday, October 24, 2018 | 8:30 a.m. – 9:30 a.m.
Why is it that certain assistants stand out where others do not? Joan Burge asked herself that very question when she started Office Dynamics in 1990. Joan thought back to her 20 years experience in the administrative profession to come up with the answer. The assistants who shined above the rest mastered four key areas to success:
ATTITUDE – Achieving and maintaining a positive attitude about your employer, co-workers, customers and yourself.
SKILL – Developing new skills and enhancing current intangible skills that are vital to workplace success.
TEAMWORK – Being a part of and contributing to various team relationships, both internal and external to the organization.
STRATEGY – Setting goals, cultivating enriching relationships and presenting a professional image.
Joan Burge has been teaching these principles for 27 years to tens of thousands of assistants in every industry across the United States. Assistants at every level of the profession have enriched their lives and careers by learning the strategies to success in each key area.
In this grandiose opening session, you will learn to:
Embrace a life-long philosophy for success.
Move from being a lost-in-the-crowd employee to a head-turning dynamic executive assistant.
Take ownership of your career.
Consistently seek process improvement.
---
GENERAL SESSION OVERVIEW: Anchoring a Reputation of Excellence
Friday, October 26, 2018 | 10:30 a.m. – 11:30 a.m.
Your reputation in the workplace can be your most treasured professional asset or most dangerous liability. Creating a strong, consistent presence can establish you as a long-term power player for your organization—a steady rock of competence and excellence.
Author Alison Green says, "Having a great professional reputation can be its own reward. It's fulfilling to have people think highly of you. But beyond that, a great reputation can give you tangible payoffs, in the form of job offers, higher salaries, better project assignments and the security of knowing that you'll have somewhere to go when you're ready to move."
Did you know. . .
Your reputation IS important? It is always with you?
You own your reputation?
You build your reputation over time and you can tear it down in a heartbeat?
In this empowering closing session with Joan Burge, you will learn:
Specific traits and best practices that will empower you to achieve excellence.
How to demonstrate excellence by being the best version of you.
Building and maintain a good reputation is a daily practice.