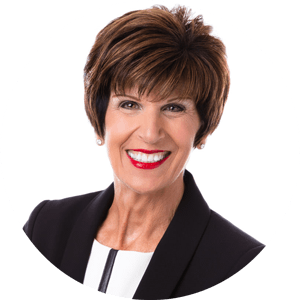 JOAN BURGE
Conference Host | Founder & CEO of Office Dynamics International | Speaker | Author | Trainer | Coach
Joan Burge is known as the red-lipstick-wearing "Rock Star" of administrative and executive assistant training and a successful entrepreneur who created a unique niche in 1990 by founding a training company that would uniquely provide sophisticated, robust educational programs and information to administrative professionals.
Joan is an accomplished author (8 books), professional speaker, consultant and corporate trainer. She is the creator of The Annual Conference for Administrative Excellence™; World Class Assistant™ Certification course; Star Achievement Series® Certification and Designation course; 30+ customized workshops, 200+ educational videos, 150+ articles and nearly 1,000 blog posts for executive and administrative assistants.
Her company, Office Dynamics International, is a global industry leader which offers a broad range of solutions and provides high-performance, sophisticated executive and administrative assistant training and coaching. One thing is clear: Executive assistants, their executives, HR business partners, administrators, and managers have come to rely on Office Dynamics International, because "only Joan is Joan."
Joan Burge is an original; the foremost expert in the demanding field of management support. She put in the hard work and high investment required to earn the reputational excellence and uncompromising trust of leaders in business. She illuminates through her empowering teaching, building better work relationships between executives and their assistants.
Joan's never-ending quest to provide top-notch educational programs has earned the respect of premier clients like Cisco Systems, AT&T, Kindred Healthcare, The Boeing Co., Humana Inc., Sunoco, Nokia, Procter & Gamble, Nationwide Insurance, and Chevron.
Stay tuned for more details.
The Evolving Executive & Assistant Partnership: How to Thrive in Today's Business World
Joan Burge and James Bristow were destined to meet for a bigger purpose than being members of Vistage (CEO Group) Las Vegas Chapter in 2018. James in his 30's and Joan in her 60's having different views of the world and work, shared one very important passion: James and Joan value and leverage the executive/assistant strategic partnership.
Through multiple meetings and conversations over this year in preparation to release a book for executives…., Joan and James discovered certain things should never change in the executive/assistant relationship, such as:
Trust
Confidentiality
Ownership
Transparency
Having "Human Moments"
Applying emotional intelligence
James and Joan also identified the many changes that have occurred since 2020, how they have impacted executives and assistants in their everyday work lives, what new tools have been added to increase productivity and identified pathways on how executives and assistants can work in tandem moving forward.
In this open and sincere conversation, James and Joan will:
Shed light on what has changed and what must never change
Share perspectives from both sides of the desk: Executive/Leader and Executive Assistant
Reveal what executives and assistants are "really" thinking
Provide solid tips on how to take your relationship with your leader(s) to the next level
Courageously answer audience questions
Inspire you to be a champion for change
You do not want to miss a minute of this session!
Stay tuned for more details.
"Oprah Winfrey. Dwayne Johnson. Warren Buffet—You may think only powerful leaders have influence. But you can develop influence, too."
Every day, assistants have the chance to be a person of influence with their leaders, organization, profession, administrative community, and even vendors. Whether or not they leverage that is a different story.
Influence is the ability to decide what you care about, help others understand why you care about it and have them support you on your journey. Influence is not a goal; it's an output.
If you want to. . . 
See yourself or your career evolve
Gain respect for your chosen profession
Change the course of things in your company
Have an impact on others
Persuade the decision-makers in your organization
Impact your future. . .
You must gain this critical skill.
In this thought-provoking session, Joan will cover:
What it means to be influential
The traits and skills to be influential
Not fearing going against the grain
The benefits you derive from shaping situational outcomes
The concept of Entropy and how it relates to you
Use "emotional" words for impact
Avoiding naysayers