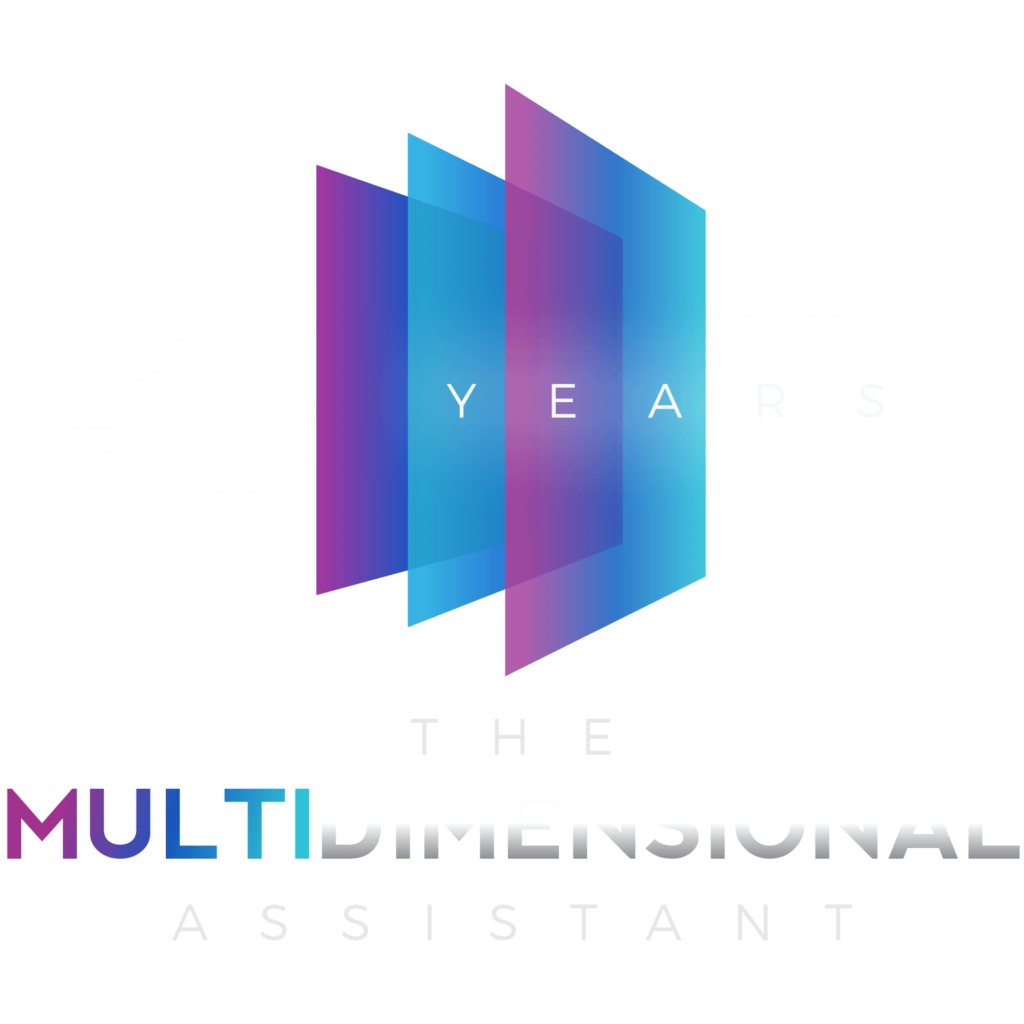 Live-Streamed From Las Vegas, NV
| October 18-20, 2023
AN IMMERSIVE ASSISTANT VIRTUAL
LIVE-STREAM CONFERENCE EXPERIENCE
Get ready to join the virtual party and experience the cutting-edge insights and networking opportunities of our conference from the comfort of your own home or office! For the past three years, we have been bringing the best of our conference to you via live-stream, and this year is no different. Our live-stream will allow you to connect with top industry experts and assistants from around the world, all while experiencing the dynamic and immersive sessions we have planned for you. Don't miss out on this amazing opportunity to learn, grow, and connect with others in your field – register now to join us for two and a half days of live-streamed sessions and innovative principles from the heart of Las Vegas!
The Multidimensional Assistant
The Multidimensional Assistant
Multidimensional implies someone or something is multifaceted, complex, intricate, and has several dimensions or aspects. This perfectly describes the role of the modern-day assistant. Much like a movie, your work life is filled with intricate themes, characters, plots, and symbols. You play many roles and wear several different hats. Some days, you are the air traffic controller and other days you are the rule enforcer. You are a director and an actor as you play out the character you want to be and how you want to be viewed by others inside and outside your organization.
This means there are endless possibilities for you and you can enjoy years of a fulfilling career. The challenge is the complexity and intricacy of your role and therefore you need to continuously learn, strategically position yourself, fine tune the already-excellent skills you embrace, and be an explorer.
I was a first-time attendee for this year's Admin Conference. I just want to thank you and your staff for all of the hard work this year. I never thought a virtual conference could have engaged me like this one, but I was blown away by the organization and knowledge I walked away with.
WHAT OUR VIRTUAL CONFERENCE FOR ASSISTANTS INCLUDES
A Memorable, Career Benefiting, and Interactive Virtual Conference for Assistants
Please be advised that our live-stream conference is intended to provide a real-time feed of our in-person conference for those who are unable to attend in person. While we will do our best to engage and involve our virtual attendees, it is important to note that the in-person conference is designed for an on-site audience. Therefore virtual attendees may not have access to the same perks and experiences. However, we are confident you will still receive a high-quality educational experience through the live-streamed sessions.
Benefits of Attending Virtually
Experience the benefits of attending a conference without even leaving your desk! Our virtual conference offers the ultimate convenience for administrative professionals and their organizations. With no need to take time off work or incur costly travel expenses, our live-stream option is an affordable and accessible way to get the knowledge and connections you need to excel in your field. Whether you're unable to attend in person or just looking for a hassle-free way to participate, our virtual conference is the perfect solution. Don't miss out on this opportunity to learn and grow alongside other passionate professionals – register now to join us online!
I loved connecting with your team and being able to share my passion and got re-charged by attending the conference. I gained immense knowledge, grew my Admin Partner network, and mostly had so much fun throughout the 3 days. I didn't want it to end.
In-Person
October 17 -20, 2023
Breakfast, Lunch, and Snacks
Live-Stream
October 18 -20, 2023
View All Session in Real-time

30-Day Access to Session Recordings

Virtual Networking Opportunities

Attend From Anywhere in the World

Attend From Your Home or Office
On-Demand
3-Month Access Post Conference
3-Month Access to Session Recordings

View From Anywhere in the World

View From Your Home or Office

View Sessions More Than Once

Pause, Play, Rewind, Fastforward