This post originated from www.OfficeDynamics.com by Nancy Fraze, the Event Reporter In The Field.
Friday morning dawned; another fabulous sunny day at Red Rock Resort! We were all tired and happy, having enjoyed the Gala Dinner the previous night. Everyone had favorite training moments and lots of stories about what they would take back with them to their respective offices to implement.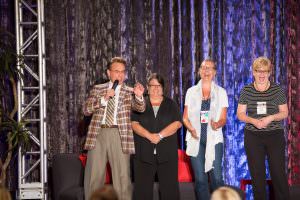 We were welcomed by a cheerful upbeat Joan, who then hosted the Wellness Tracking competition to determine the winner. Throughout the entire conference, attendees had been tracking their wellness on the provided wellness tracker. There were blue dots for water, green for fruits and veggies, dots for exercise and dots for stress reduction. The person with the most dots on their trackers at each table stood. Then those finalists came up to the stage. The final dots were counted and a winner was determined with great applause.
Next we watched a Sean Stephenson Dance Party video (which I highly recommend and have re-viewed several times since I returned home!).
Another Celebrating You! Award was given to Chris Buchner. Way to go, Chris! Additional people who submitted stories of merit were: Phoebe Muir (The Boeing Company); Laura Suchocki/Cindy McConnell (Shure Inc.); Deanna Gritsonis (Direct Supply); Judi Babbit (Cisco); Lori Wood (Cisco); and Cindy O'Donnell. Way to go, and congratulations, everyone!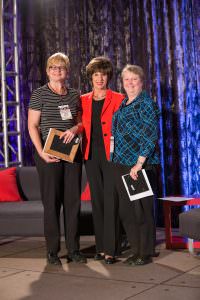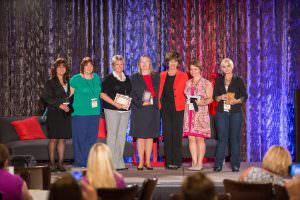 Next we watched the videos of Office Dynamics staff reporting in on how their goals had been met through daily huddles focused on the 5 life pillars. Jasmine Freeman shared about being so encouraged to hit her goal targets and the pleasure she got from making plans, setting targets and reaching them.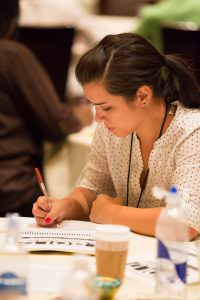 Joan brought our attention to creating action plans by determining our post-conference intentions. She ran through information from a Psychology Today article "Creatures of Habit" by Ian Newby-Clark:
What kind of habit are you trying to establish? Recognize that after many years, there may be some setbacks but keep tweaking behavior and your habit change time will be much shorter. Take baby steps so you can see progress fairly quickly.
What are the benefits to continuing with your bad habit? Bad habits provide short-term payoffs. The more immediate and tasty the payoff the harder it will be to break the bad habit. (But it can be done!)
How often/automatically do you perform the bad behavior? You have to be aware you are doing something bad in order to replace it with something better for you.
Joan told us it takes "repeat, repeat, repeat" to really grab hold. Like learning to drive a car, you now drive along easily and once it was so difficult.
Joan walked us through having "
Real Behavior Change"
 (by Shelle Rose Charvet). The key to creating and maintaining real behavior change is in getting and staying motivated.
Be accountable. Remember that behavior and values are important. (Use quotes and affirmations and put them on post-its where you can see them.)Next, we completed our specific objectives, our improvement plans and action process steps, listed tools and resources, and set a 30-day status check. Joan told us to paint in the details and set objectives that describe what it looks like. For each session, we completed the form so that we could have a completed action plan upon return to the office.Then she shared the 5 Pillar Foundation Competencies:
Belief (that you can make changes, with some effort; belief in yourself)
Commitment
Determination (Red lipstick ON!)
Positive Attitude
Staying Power
She discussed acceptance, determination, positive attitude, belief, gratitude, resilience, commitment, hope, staying power, courage, inner circle and warrior.
To say the very least, it was fulfilling and complete.
Our next segment was "Ingredients for the Journey." In this segment, Joan challenged us to turn off our devices and have the courage to relate to people and just unwind sometimes. She next said we needed staying power: describing how her daughter Lauren trained for a pancreatic cancer marathon by training at night after working all day. She ran the actual marathon which ended on the Strip. It was very tough, but SHE DID IT. She kept going! "You can do it!"
Joan discussed having an inner circle and said that Office Dynamics International cared about our growth and development into whole, better people.
Joan relayed about the Learning Center Rooms where she recently spoke at Nationwide Insurance Learning Center in Columbus, OH. Their training rooms are named:
Vision – (you will only go as high as you set your goal.)
Opportunity – (be strategic. "Luck" is the person who's been preparing all their life.")
Growth – (baby steps add up.)
Insight- (be in the moment. Pay attention so you can adapt.)
Exploration- (people develop and discover new skills through training.)
Journey.- (don't let fear take hold of you. We learn from every bump. Bumps are humbling, they bring us back to earth. "Bumps build our character," Joan said.)
Joan finished by saying, "Every step in your journey is an opportunity to be BOLD!"
Joan stepped aside and the ODI crew brought a huge metal framework up on stage. A woman, Laura Balch, came up on stage with a large canvas. She began to sweep bright colors of paint onto the canvas with bold strokes in brilliant hues. She created long sweeping ribbons of colors across the canvas. Then, as the music played, she turned the canvas and the paint rolled. She turned it again, and began to add large geometric blocks of black paint, almost obliterating the beautiful ribbons on the snowy canvas.
As the music swelled, she turned the canvas, and then we saw clearly, quite suddenly, that what she had made was the conference logo: the word, "BOLD" with ribbons of color behind it.
It was beautiful and a great representation of how people change. It doesn't always make sense at first because you can't see it all clearly. You like some bright parts and dislike (perhaps) some portions, yet in the end as you turn and see it all from a wider, broader perspective, you see something dramatic and wonderful. That is how people grow and develop into stronger, better people and stronger, better employees.
The 2013 Conference for Administrative Excellence was now in the history books and in the hearts, minds, and notebooks of so many attendees who would return to their offices with action plans brimming with new learning.
We laughed with Debbie Gross; we learned about time saving Zip Tips with Mike Song; We learned to disconnect our stories from simple events with Dan Leier; we experienced daily huddles with the ODI staff; we learned about making our money behave with Christi Wright; we examined becoming a lighthouse beacon  to our own worlds with Joan Burge; we heard the executive perspective with Melba Duncan, Lisa Olsen and Lucy Brazier; we laughed our way to better nutrition choices with David Meinz; we ignited our professional passion with Chrissy Scivicque; we gained soul success in positive relationship building with Tedi Anne Templeton; we took wellness breaks, had fun with an Office Dynamics trivia team building activity; heard the state of the profession keynote from Joan Burge, and watched videos of individuals discussing how attention to the 5 life pillars had grown and shaped their lives in dramatic ways.
And, we danced and celebrated being strategic administrative business partners, the glue that holds our offices together, at a beautiful Gala Dinner created just for us.
It was spectacular, and now it was time – to fly home in so many directions. To return to work, renewed, encouraged, with new skills, new abilities and a new sense of passion and purpose.
Administrative assistants and executive assistants, WE CELEBRATE YOU!