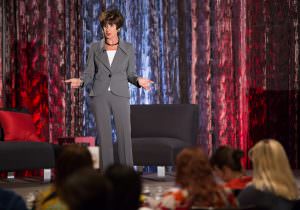 Join our Reporter In The Field, Nancy Fraze, as she shared the event action as it happened. Nancy will fill you in on all the sessions you may have missed as she took copious notes!
State of the Administrative Profession with Joan Burge
Joan took the stage following Mike's presentation to give us the State of the Administrative Profession. This is my favorite segment, because Joan does so much research and has a tremendous knowledge of the pulse on our field.
Her topic was, "Career vs. "A job that anyone can do.""
She said that the U.S. Labor department projects the category [of Administrative Professional/Support Roles] will grow about 12% between 2010 and 2020, adding nearly 493,000 jobs during this decade. She stated emphatically that we must view ourselves as in a career of choice.
"Why doesn't anyone ever ask a doctor or a lawyer: "You're so great at what you do, you could do more." Yet they tell great admins that! We, like doctors and lawyers, are performing well because we are in a career of choice."
She stated that certification and designations have certainly raised the performance and value factors for our industry. She had participants rate themselves on whether or not they viewed this as a career.
Next, Joan turned her attentions to the term, "strategic business partner" and said that is what we have and are becoming. There are some managers who are not fully utilizing their administrative professional, but that is an opportunity for us to teach and educate our managers about who we are and what we can do and how we wish to work with them.
The current trend for administrative assistants to support multiple managers continues beyond the economic meltdown of 2008.
Through it all, it's our job to teach our managers how best to utilize us in modern ways and with the fullness that reaches our prowess in technology, emotional intelligence, project management and so on.
Joan said she hears executives use the term "flawless execution" frequently. "When you do it correctly, they will trust you with more," she said. We need to build trust by doing great work and being cognitive and intuitive. We need to take the initiative to put ourselves onto their calendar and have the conversation. Share the benefits that can come from a strategic business partnership.
Joan next said that we need to combat stress through a viable stress management program. "Manage your thinking," she said, "never stop implementing strategies to improve."
Joan said we should see ourselves as an investment. Be a life-long learner. Realize it is okay to develop yourself. Be proactive in doing so, and do it for you. Take the time out and make a plan. Gain buy-in from your support circle. NO GUILT! Joan said to do it without guilt. "You are worthy of it!" Joan said.
"Modern, progressive leaders have indicated that they will no longer tolerate stagnated individuals to provide support for them. They want administrative professionals who are passionate about learning, growing and extending beyond the comfortable, drab ordinary "just enough" syndrome."
The competencies for success are that foundation skills are essential. Multi-tasking is a no-no. Hundreds of scientific reports suggest that we function poorly at everything when we multi-task. People are better at focused work on a single thing. Additionally, interpersonal and soft skills are as important as ever. The next generation of tech tools will change the way we work forever.
Advanced competencies for administrative professionals are change management, being future-focused, and accountability. "You are not robots!" Joan stated, Use your judgment and cognitive skills."
Admins will required sophisticated skill sets in both of these major competency areas.
Joan directed everyone to a worksheet on Collaboration, Leadership and Professionalism to guide the discussion and work on our sophisticated skill sets.
Next, Joan displayed the Star-Performing Executive Administrative Professional Competency Model, listing foundation competencies as a foundation to the Star Approach of Attitude, Strategy, Teamwork and Skill. "This rich combination of attitude, skill, teamwork and strategy leads to performance excellence and career success," she said.
The presentation was amazing and spot-on. People seemed truly challenged and encouraged by the keynote and the opportunities the future holds for those who are in a career of choice.