The following blog was originally posted at OfficeDynamics.com/blogs by Nancy Fraze, Reporter In The Field, for the Annual Conference for Administrative Excellence. Nancy reports from an attendees perspective the events as they occur. 
Following the day's teaching time, about 40 of us reconvened at 7:00 pm for VIP Bowling at the bowling alley at Red Rock Lanes.
Office Dynamics International (ODI) had arranged for wonderful hot appetizers and all kinds of great goodies to eat. There were roasted beets, boxes of fried firecracker shrimps, vegetables encrusted in dough pillows, and more. The VIP suites were beautiful, and really swanky.
For props, there were hats, feather boas, stars, sign making materials and sunglasses (Elvis or Jackie O for you?) and other great props to wear while we bowled. It was like dress up for grown ups!
We split into four teams, led by Brian, Jasmine, Michele and Joan (the core team at Office Dynamics). We wore team shirts. The four teams were named:
Joan: Live a Big Life – BOLD!
Jasmine: Red Lipstick On! – BOLD!
Michele : Red Lipstick On! – BALANCED!
Brian: Live a Big Life – BALANCED!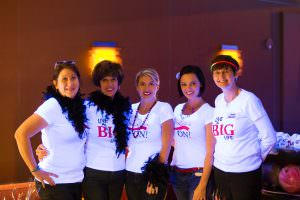 I was part of Jasmine's Red Lipstick On! Team. We had a BLAST! There were music videos and laser lights everywhere. We ate, bowled and munched snacks. We laughed a lot and got to know each other better.
One of my first times up, I hit a gutter ball. Recalling the Dan Lier keynote just two hours prior, I said, "That's so unlike me! I'll do it better next time." We all high-fived each other and it was a great way to experience happy, positive team support of each other, regardless of how many pins we knocked down.
In the end, when the dust cleared and the pins were tallied, the winning team was ….
Red Lipstick On! Jasmine's team!
The next morning, Gina showed VIP bowling video highlight clips to the general session and we all enjoyed it. It was a great evening event!
Other conference attendees gathered and went to dinner together; some went to see shows. Some people went to the pool area and some worked out at the gym or visited the spa.
All in all, it was an outstanding day of conference training and development for the administrative professionals in attendance.