OFFICE DYNAMICS CONFERENCE RECAP PART II: PEAK EXPERIENCE
This article is part 2 of our conference recap . . . if you missed part 1, you can read it here. 
Thursday proved to be the peak day of the 21st Annual Conference for Administrative Excellence, beginning with yet another series of breakthrough plenary sessions and then culminating in the fabulous Gala Dinner.
After a continental networking breakfast on the resort veranda, Peggy Vasquez kicked off the general sessions of the day with her workshop on "Creating Authentic Business Relationships." Peggy is an author and motivational speaker, on top of being Chief Executive Assistant at PNNL. She helped us understand how creating and developing a lasting business connection takes time and skill, and delivered unique tools for surmounting awkward moments, starting conversations effortlessly, and the art of follow up.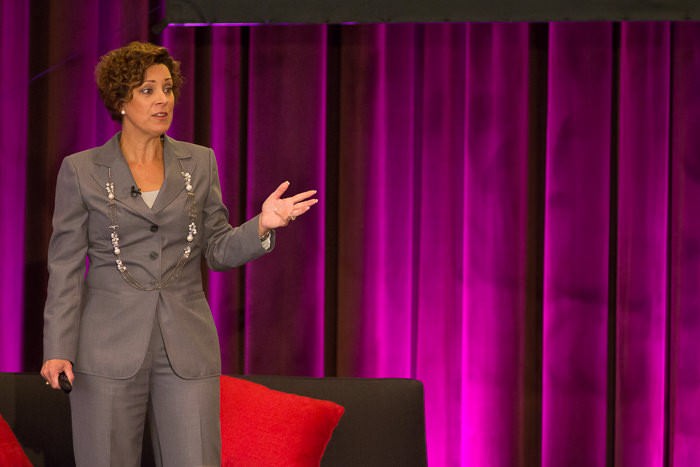 Next, attendees were given a privileged insight on the Executive Perspective, exploring how leaders can best partner with their administrative assistants and what they most value and look for. For this special session — unique to this conference — Joan hosted two dynamic executives — Steve Forst, CEO of Performance Matters, and via telepresence, Cisco executive Alistair Butler.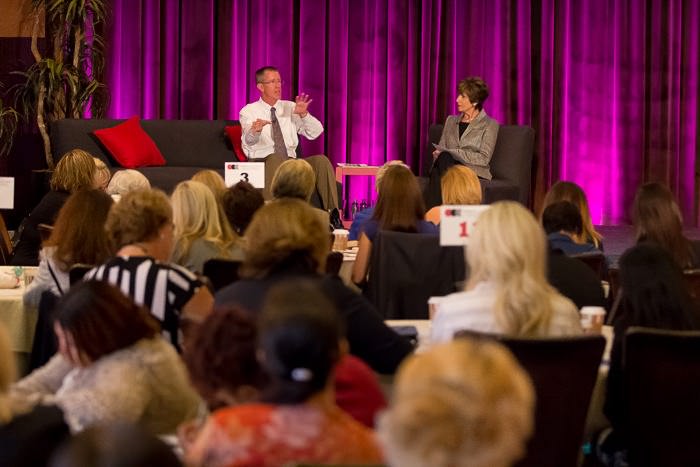 After another quick networking break for coffee and tea, Lisa Olsen delivered a concentrated shot of inspiration with her 30 in 30 rapid-fire presentation on "The Power of Influence."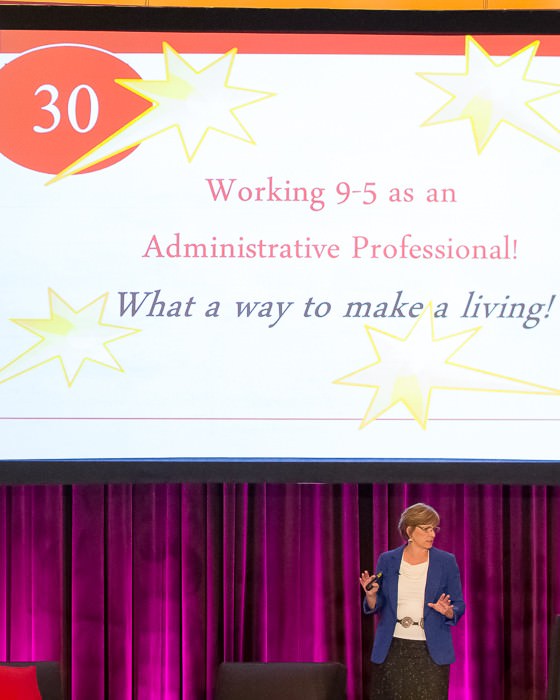 Chrissy Scivique, founder of EatYourCareer.com, took the stage next to convey "The Language of Influence — 7+ Subtle Secrets to Persuasive Communication." Going deep with the conference's core theme of "Expand Your Influence," Chrissy's session equipped us with concrete tools for setting limits (without ever saying "no"), guiding people to our own point of view without being pushy, building rapport, and positioning yourself as a leader.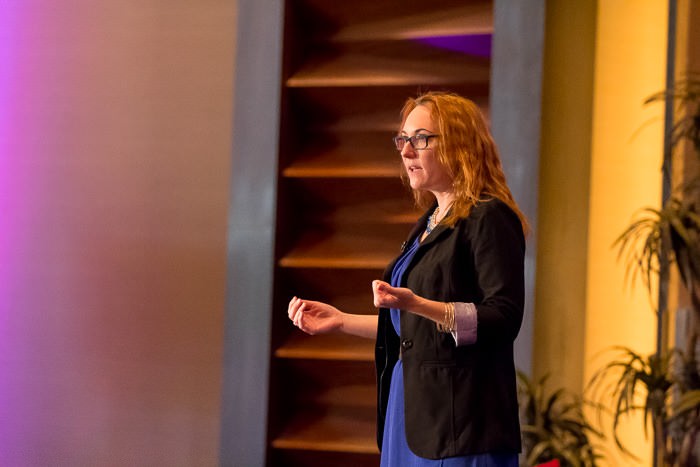 At midday, we took advantage of the pleasant Las Vegas weather and ventured outside for lunch by the resort pools. The vibrantly colorful cabanas and palm trees combined with a gentle breeze and warm rays of sun for a tropical recharge. Tables were themed by informational topics so that attendees could find people interested in similar issues or seek out specific peer expertise.
After the meal, three concurrent sessions provided a variety of in-depth expert sessions for attendees to dive in deeper with their most pressing interests.
Joan Burge offered an intimate Q&A session, "What Would Joan Do?" where she gave her candid and insightful responses to some of the most perplexing challenges attendees were facing. Topics included handling a chronically late executive, salary negotiation for highly experienced administrative professionals, effectively communicating across the generations, "leaning in" to balance a new family with a challenging career, making an admin network thrive, how to cultivate a strategic partnership with your leaders, navigating organizational politics, and knowing when to leave.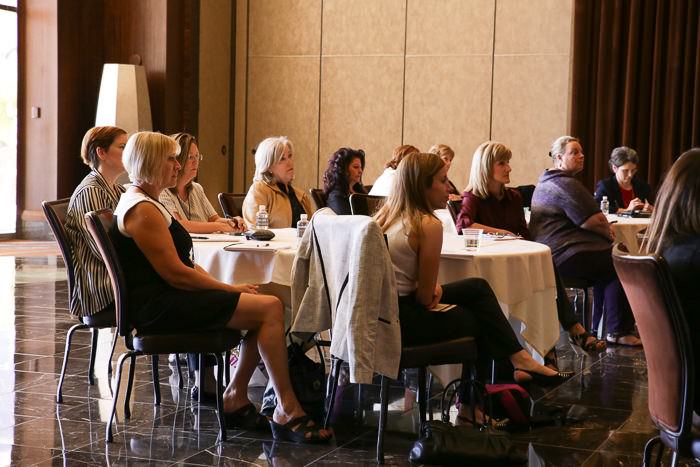 The second session, "Grow Your Career and Have Fun Doing It!" was led by Stacy Leitner. Stacy guided attendees to establish a strategic career plan to enable them to grow their career by creating and seizing new opportunities. She also shared tips for creating more fun in the workplace while effectively juggling the myriad responsibilities of a top administrative professional.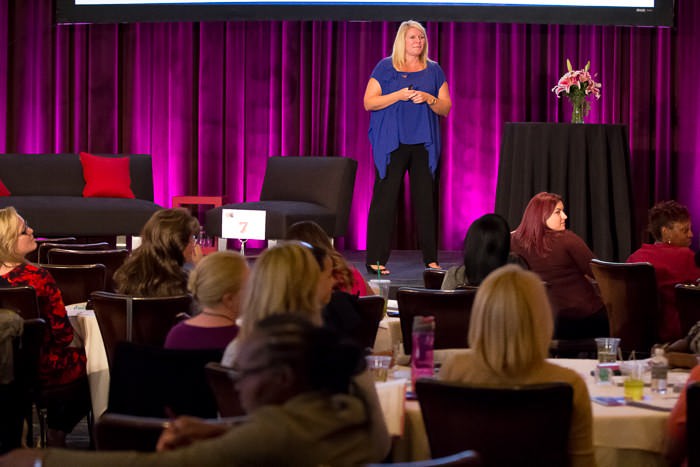 The final concurrent session — "7 Steps to Creative Problem Solving" — was led by Lisa Olsen. Lisa walked us through the barriers that sometimes prevent admins from feeling confident in their decision making, and also shared how problems don't necessarily result in a negative outcome — we can learn how to proactively and effectively generate creative solutions! Lisa offered a robust tool-set for critical thinking and rational decision-making sure to enhance every professional's career growth.
A quick afternoon networking break gave everyone a chance to recharge, reset, and digest their experiences during the concurrent sessions, and then we assembled back in the ballroom for the final two plenary sessions of the day.
The first, presented by Lucy Brazier, was "Harness the Power of Collaboration." Executive and administrative assistants hold a unique position within their companies which allows them to participate in true cross-company collaboration in a way that almost no other job role does. But if that's true, then why do most administrative professionals continue to operate in silos when collaboration is so good for business? Could it be that this is because we are confused between collaboration and teamwork? The two are not only very different skill sets but are not in any way interchangeable. In her session, Lucy clarified the differences between collaboration and teamwork, exposed some of the top challenges of collaboration, gave pointers for harnessing the power of this mode of operating, and lastly encouraged us to create a business community that can not only embrace collaboration, but use it to accomplish new heights.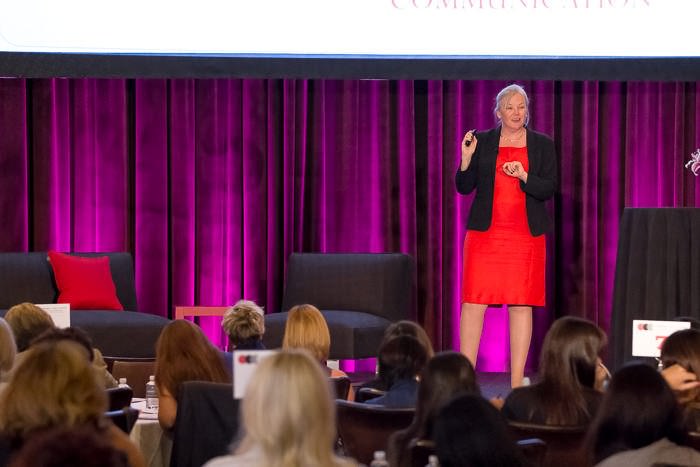 Our concluding session of the day was the much-anticipated workshop by Vital Germaine, "Creative Leadership for Administrative Professionals." A former Cirque du Soleil performer and all-around fascinating Renaissance man, Vital is currently the owner of ENGAGE, where he shares his expertise to inspire growth in both individuals and organizations.
After giving us a brief insight on his interesting life, Vital kicked off the workshop by sharing a model for obtaining peak performance, where creativity, wellness, and connectedness converge to support an optimal state. He then offered his three step formula for inspiring creativity. We can't give it away — some things you just have to be there for! — but in the blink of an eye, Vital literally transformed the entire room, and everyone in it, with a simple trick. He brought it all together at the end with the top ten ways to develop creative thinking, which include curiosity, commitment, childlike wonder, collaboration, and of course lots of play.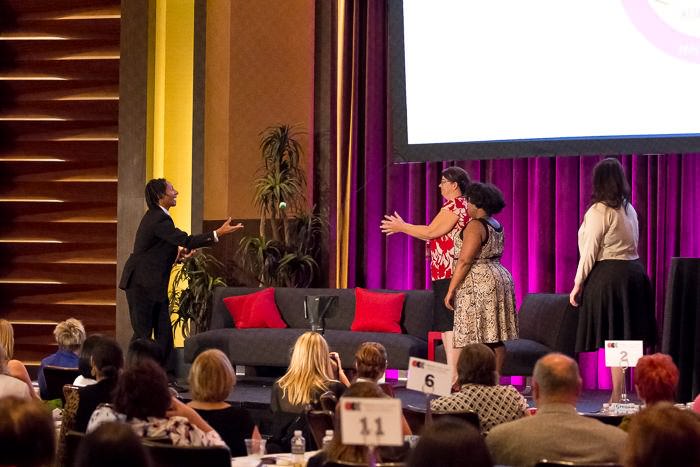 The end of the conference sessions was only the beginning of our evening, however; the best was yet to come! Later that evening, the conference peaked with our annual Gala Dinner. The event theme, Havana Nights, was fully in evidence as we entered into a festive nightclub atmosphere with a live Latin band and DJ, complete with dancers. Attendees and their guests were dressed in white hot cocktail dress for dinner, drinks and dancing. It was an unforgettable night, as everyone eventually made it to the dance floor for some creativity, collaboration and connection!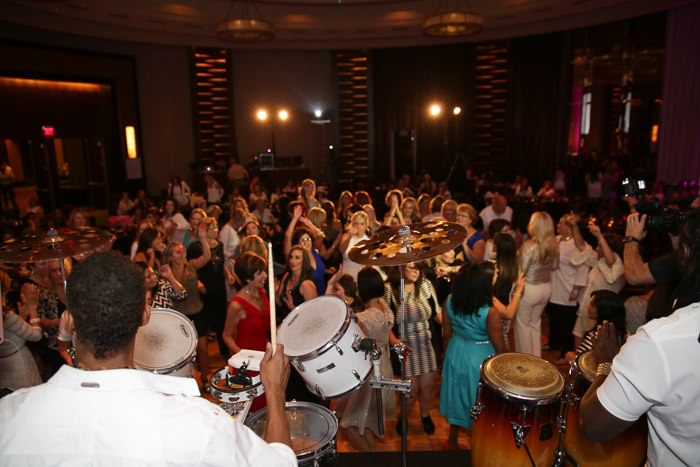 Stay tuned for Part 3, the final installment, of our 2014 administrative professionals conference recap!
For information on the next Office Dynamics Conference for Administrative Excellence, visit www.officedynamicsconference.com and subscribe for email updates.