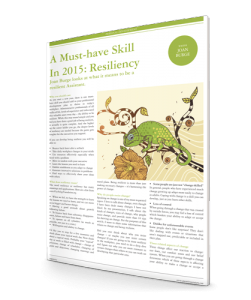 In her recent article published in Executive Secretary Magazine, Joan Burge takes a deeper look at what it means to be resilient and how resilience translates to the work-life of professional administrative and executive assistants.
As stated in the article, Joan informs us that the higher you climb the career ladder, the deeper levels of resiliency are needed as the business game gets tougher and stakes are higher for you and the executives you support.
Joan covers why we should care about being resilient, what it means and the deeper meaning for why people resist it.
Being resilient is more than must making necessary changes – it's harnessing the power of change. Joan also states that resilience is a skill and it's a skill you can build! For those who dare to exercise their 'resilience muscles' you will:
bounce back faster after setbacks
take daily workplace changes in stride
move in tandem with your executive
generate innovative solutions to problems
find ways to effectively share your ideas with others
So how does all the above relate to being resilient?
Joan covers all this and more in the article – a must read. You can download your copy here.
A Must-have Skill in 2015: Resiliency – Executive Secretary Magazine