Interview with Gregg Fienberg, Executive Producer of HBO's True Blood, and Founder of CallPlease


Gregg Fienberg, Executive Producer of HBO's True Blood, set out to solve one of the most common problems assistants and their bosses face together in Hollywood and beyond: managing phone calls. After failing to find a mobile solution that could help Fienberg and his assistant Gabe Hobson manage and track calls efficiently, Fienberg put a team together and created CallPlease.
CallPlease is the first solution of its kind that actually syncs call lists across devices allowing a boss and an assistant to work together in real-time regardless of where they may be – in the office, on the road, anywhere.
We interviewed Gregg to find out more about this solution, and to see, of course, if we could get a sneak peak into the final season of True Blood.
What inspired you to create CallPlease?
GF: Whenever I was on set or scouting for locations, I found myself juggling emails, texts and scribbled pieces of paper – all the different methods people use to track phone calls.. One day on set, I thought to myself –I bet there's an app to solve my call tracking nightmare. Gabe, my assistant, and I both searched online and found nothing. Sure, we found call log apps but nothing that allowed Gabe and I to work as a team. We tried some 'To Do' apps but none of them did what we really needed. So, I decided to create the app myself.
Did you expect your idea to take off like it did?
GF: At first, we were just trying to solve a problem for ourselves. I had no idea what we were sitting on. My friends and colleagues in Hollywood started using CallPlease and would call me telling me how much they loved it. Now, they say they don't know how they managed before CallPlease.
How does CallPlease help you reduce the frustration with call management?
GF: The biggest frustration Gabe and I faced was communication in real-time. If I was traveling, then Gabe had to email or text me a long chain of messages to get me the call information. That's not including reminder email and texts. With CallPlease, Gabe inputs the information and notes for the call right into the CallPlease web app. It then immediately syncs on my phone and my tablet – just like an email thread.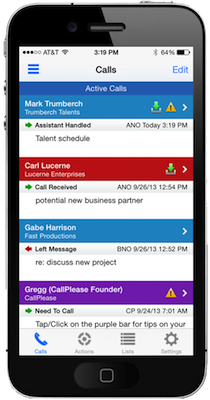 That seems to take a lot of stress off the assistant. But then you have to still make the call, how does that work?
GF: Good question. I can make the call right from our app. And the best part is, when I am done with my call, I simply click on a "call action" like left voicemail, enter any notes I have on the call and the information immediately syncs back to Gabe. No break in communication from start to finish. He knows if I've returned calls and when. And also knows if I haven't returned a call (that I should have returned) and can remind me to get it done! Simple and slick.
Does your assistant need to remind you to make every call?
GF: No. CallPlease offers alarms and notifications so it automatically reminds me when to make the call. And, unlike my assistant, it has no mercy in reminding me. But the good news is that you can customize the frequency of the reminders based on your own needs. We have three levels of reminders – urgent calls, past due calls and scheduled calls.
What if you have more than one assistant?
GF: Great question. We designed CallPlease to work with any combination a company may require – a single boss, a boss with one or more assistants, two bosses sharing one assistant – even multiple bosses sharing multiple assistants. CallPlease is extremely flexible and can handle just about any set up imaginable.
When I hired Jen to join our team (Gabe was promoted into my development department but still helps in managing my calls), it was simple to add her to our account. In seconds, she easily became part of my communication chain.
What is the fee to use CallPlease?
GF: We offer a free 30-day trial of our solution and then there's an affordable monthly subscription fee per boss depending on the features you need. The fee for a Boss working without any Assistants is $9.99 per month. A Boss working with Assistants (unlimited assistants per boss) is $19.99 per monthly.
What can you tell us about True Blood this season? Are you sad it's almost over?
GF: This is our seventh and final season and the whole cast and crew has really become a family. While I'd love to tell you what's going to happen, like who lives and who doesn't, I really can't divulge (why spoil the surprise?) but what I can tell you…oh, wait, please hold… CallPlease is reminding me of a call, be right back!
To try your free 30-day trial of CallPlease, please go to www.callplease.com or download CallPlease in the iTunes store. CallPlease works both on iPhone and Android devices.