Continuing education is important for administrative professionals, too.
Many years ago, I had entertained the thought of going back to school.  It was a fleeting thought, quickly overtaken by the reality of what I currently had on my plate – a full-time job, a spouse, four children with one on the way, and community commitments.  I was having difficulty finding time to simply watch a television show – how in the world would I be able to manage going to school too?  Excuses and reasons for not advancing my education were very powerful, and deterred me from doing any type of research to find out what colleges and universities had available.
One day I was with my children at a local zoo.  A few businesses and universities had booths set up and were providing information to the public.  A representative from a university approached me and asked if I had ever considered going back to school.  Of course I had considered it, and I quickly shared with her all the reasons why I was convinced it would not work for me.  She spent the next few moments debunking all my theories.  She said I could take one class at a time, I could do it online and never have to drive to the campus to sit in class, I would have the books mailed to me, I would qualify for student loans, I could get tuition reimbursement from my company, and the list went on.
Now the idea that I was convinced would never become a reality was congealing into something more tangible.  I came home from the zoo and proudly shared with my husband that I had made the decision to go back to college.  Once the look of shock disappeared from his face, he said, "What kind of zoo did you just go to?"  Sometimes in the least expected moments, opportunity strikes.
I met with an academic advisor, still feeling nervous about my decision.  In his office, he had a quote from Mark Twain that said, "Twenty years from now you will be more disappointed by the things you didn't do than by the ones you did.  So throw off the bowlines.  Catch the trade winds in your sails.  Explore. Dream."  At that moment, all my nervousness and trepidation left me.  Mark Twain was completely right; if I did not take the opportunity now to pursue the next degree, I would be disappointed in myself.
Going back to school is not easy.  It is a lot of hard work.  I've had to learn to manage my time better than ever.  My children know when it's homework time for me, and have learned to respect that.  My husband was so inspired by my decision, he enrolled in college as well to continue his education.   We've had to make adjustments to our lives in order to fit college into our already busy lives.  However, I hold dear a quote from Vince Lombardi: "The dictionary is the only place that success comes before work.  Hard work is the price we must pay for success.  I think you can accomplish anything if you're willing to pay the price."
What do you want to accomplish?  Do you want to go to school to get a first or second degree?  Make a call, explore your options, and find a program that fits best into your schedule.  Education will help you advance your career, and bring a personal sense of fulfillment.   Don't find yourself disappointed that you did not take advantage of an educational opportunity.
---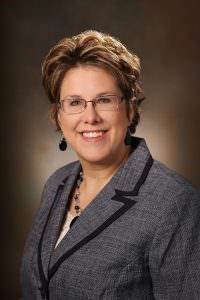 Author:  Julie Hill
Julie Hill is an executive assistant at Spectrum Health in Grand Rapids, Michigan.  Spectrum Health is a non-profit health system based in West Michigan comprised of nine hospitals, 130 ambulatory and service sites, and a health insurance plan.  Spectrum Health is the largest employer in West Michigan.   She is currently president of the Professional Administrative Support Staff (PASS) group which consists of over 400 members of various support staff positions.  Julie will be completing her bachelor's degree in business administration in the spring of 2014.