Welcome to The Conference for Administrative Excellence in Las Vegas, where we take pride in offering an exceptional experience for administrative professionals like you. In this blog, we'll explore five key aspects that set our conference apart from the rest. From unforgettable special moments orchestrated by our Founder and CEO, Joan Burge, to cutting-edge knowledge and career development opportunities, we ensure that each attendee leaves with valuable insights and meaningful connections.
Joan Burge's Signature Surprises
At Office Dynamics International, we believe in making every moment count. Joan knows how to create unforgettable experiences that leave lasting impacts. From her engaging interactions with attendees to the much-anticipated Joan Burge Gala, you can expect surprises that will make your conference experience truly unique. With our 30th-anniversary celebration coming up, the excitement is even higher!
Intimate Conference Size
Unlike large and overwhelming conferences, our event is designed to foster intimacy and meaningful connections. We want you to feel valued and connected throughout the conference. With a limited number of attendees, you won't get lost in the crowd. Our dedicated networking areas and Social Fusion Mixer provide ample opportunities to connect with peers from around the world, speakers, and the Office Dynamics International team.
Career Development
We are not just a conference; we are a catalyst for your career growth. The Robert Half Career Coaching Corner and Success Store are designed to equip you with the tools and guidance to elevate your professional journey. Expert speakers lead interactive sessions that challenge and inspire you to take your career goals to the next level. Additionally, the coveted Joan Burge Innovation Award recognizes outstanding achievements, fostering a sense of accomplishment and motivation.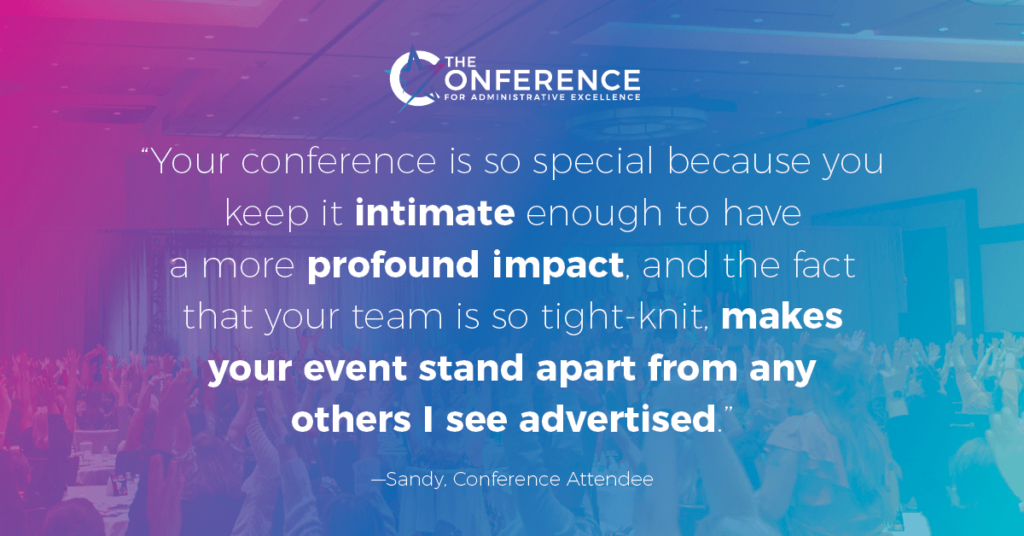 Networking Opportunities
Building a strong network is crucial for career advancement. Our intimate conference size ensures that you have ample opportunities to network with like-minded professionals. Whether you're engaging in thought-provoking sessions or enjoying social events, you'll find plenty of chances to make meaningful connections that extend beyond the conference.
Cutting-Edge Knowledge
In the rapidly evolving administrative profession, staying ahead is essential. Office Dynamics International offers a diverse range of sessions and speakers that cover all facets of being an assistant. While technical skills are vital, our focus extends beyond the digital realm. We provide insights into personal growth, leadership, and adaptability, ensuring that your skillset remains relevant and adaptable to the changing landscape.
The Conference for Administrative Excellence, hosted by Office Dynamics International, is a one-of-a-kind event that brings together administrative professionals from around the world. Our unique blend of unforgettable surprises, intimate conference size, career development opportunities, extensive networking, and cutting-edge knowledge ensures an experience that goes beyond just attending a conference. Join us and elevate your professional journey to new heights, armed with valuable insights, meaningful connections, and memories that will last a lifetime. See you at the conference!