Should I attend the Office Dynamics Conference? Yes, this is a conference I've had the opportunity to attend. The key words here are "Inspiring Excellence in Administrative Professionals". That is what Office Dynamics provides at these conferences, plus so much more. I have found it to be the best of the best information, great training, with inspiring and motivating speakers.
Here are some of the highlights I experienced at the previous events.
The first Office Dynamics conference I attended inspired me to look beyond and grasp whatever there is out there towards development in the Administrative Profession. It provided a network of 240 Administrative Professionals that all had similar aspirations and, yes, some differences. It was the opportunity to embrace those individuals and take away some insightful information. The end result of the annual team building exercise at this first event I attended was a book of created ideas titled "Who Took My Pen Again". I'm one of the 240 who participated in the book. Now, my team did not win the cover, but that is OK. It was the overall inspiration and innovation of the Office Dynamics team that provided the book suggestion and got us all to be creative. The end results were to look beyond and use whatever creative talents you have, even if you don't think you are creative. There is always someone else who can take part of what you have and create a bigger picture. Before you know it, all the 240 individuals used their creative juices that helped the Office Dynamics team and Joan Burge towards the final dream of the book.
The second Office Dynamics conference delivered a BOLDNESS that challenged me to step out of my comfort zone and make my dreams a reality one bold step at a time. Every step forward on each rock across the stream will help us move towards our dreams. Even if that step may be slow, taking you a year or two to get across, the time frame isn't what matters. What matters is you are taking those steps to be the best you can be and going after what you want in life. Joan Burge also launched the book titled "Live a BIG Life" and surprised the audience with an autographed copy to each of us; I believe it was 270. That is a lot of books, and a great book too! Funny part about the whole "Life" idea is that I've always been a believer in "Trying everything in life once, and the good things twice". I'm not sure where I got the quote from, but I've been trying things for the last 32 years and some more than twice. I'm convinced that Office Dynamics conferences have that special something that you can only get by attending.  You need to attend to meet the network of individuals who are Administrative Professionals (men and women). Yes, you need to attend to meet and hear the speakers that can inspire you and change you in more ways than you realize.
I'm already signed up for my third Office Dynamics Event of Distinction this September 2013.  Furthermore, I already know that it is worth the investment before the event starts. Yes, it is an Event of Distinction, something you'll never regret participating in. I can't explain how it makes me feel inside, or how meeting others will change you, or how the speakers inspire you, I just know that the results have been coming and showing from the outside. People now know I'm different and I now know there is more out there to help me continue to learn and grow.
Go ahead take that chance on investing in yourself and you will find it was well worth it.
Yours Truly,
Joan Hassler
---
Guest Blog by Joan Hassler, Senior Administrative Assistant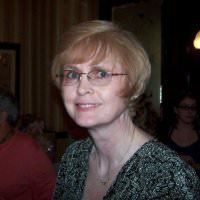 Joan Hassler, Senior Administrative Assistant for the TIAA-CREF organization. She joined TIAA-CREF in 2006.
At TIAA-CREF Joan currently supports Senior Managing Director for Asset Management Services (AMS) under Shared Services (Middle Office).  The group concentrates on the operations, tracking and control of investments.
From 2006 to 2012 Joan also supported the Chief Investment Officer for Investment Management under Asset Management. The group concentrates on investments for the Insurance Company and Mutual Funds complex to ensure growth on our client's retirement plans and other investments.
Joan has more than twenty-five years of Administrative and Office Management experience in finance and other business sectors.  Prior to joining the TIAA-CREF organization, she was Senior Administrative Assistant for The Bank of New York Mellon working with the Derivatives and Foreign Exchange Teams.  At the Bank of New York Mellon her role was to administrate various auditing and compliance procedures, such as Anti-Money Laundering, Business Contingency Planning and Data Security Management.  She also held various office management positions at Federated Investors, Airborne Express, J.C. Penney and Blue Cross Blue Shield.
Joan has a B.S. in Business from the College of Staten Island and M.S. in Banking from Mercy College.  In addition, she has certifications for World Class Assistant for Administrative Excellence and Toastmasters for Competent Communications & Leadership.   She is also a member of several administrative professional affiliates plus various associations.
As a leader, Joan has been the President of the TIAA-CREF New York and Northeast Administrative Council since 2010.   In addition, she participates in various volunteering programs and assists others by sharing her knowledge through mentoring.