10 Creative Ways to Organize the Office with Hooks, Hangers, and Rods
Organizing tight spaces such as a small office can be quite challenging. Thankfully, when you don't have room to spread out, you can always spread up. In this post, we'll show you 10 clever ways on how to get everything from coats to stationery items off the table and out of the way with the help of hooks, hangers, and rods.
1. Old Frame with Hooks to Display Oft-used Items
If you're one of those people who spend almost as much time finding supplies as working on a project, having your most oft-used items on display is actually not a bad idea. Turn an old frame into a stylish organizing station by fitting it with a pegboard coated in gold enamel paint. Just add some hooks to the board, and it's ready to go.
2. Rod with Hooks and Clips for Desktop Organization
A rod on the wall is a great way to keep your desk looking organized and less cluttered. Hang cups for keeping pens and use a clip to hold your calendar, an important note, or business cards. Place more hooks for hanging scissors and other desktop items.
You can also use a towel rod with hooks and buckets to display your beloved plants and succulents. Now, you'll have enough free space to work on while still having some greenery around you!
3. Old Spring Frame as Wall Hanger
Here's something unexpected but undeniably interesting and functional – a spring frame as a wall hanger! Stylish in its own way, this repurposed spring frame is a space-saving way to hang anything, from photographs and notes to scissors and keys.
4. Shoe Organizer that Doubles as a Window Treatment and Pen Holder
A shoe organizer is a simple, fun way to get your office supplies off your desk. Hanging on a rod by the window, this instant storage system works as a curtain while offering enough compartments to keep all your office supplies in one place.
5. Fun Rods and Hooks for Umbrellas, Coats, and Bags
Simple metal rods and hooks painted in a bright color add fun and character to a bare office wall. Even better, they're a space-efficient way to hang umbrellas, coats, and bags!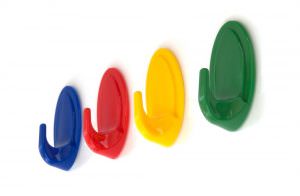 6. Vintage Metal Wire Baskets for Files and Office Supplies
Wire baskets on walls are great for organizing files and folders, sorting mail, and storing office supplies. Their see-through quality makes it easy to find the things you need, while their simple, vintage design gives your walls a fun industrial look!
7. Entire French Memo Board Wall for Hanging
French memo boards are not something new to office organizing, but an entire wall done up as one is cute and clever! A wall dedicated solely to Post-its, memos, and notes adds a beautiful touch to the office while giving you so much room for posting your documents.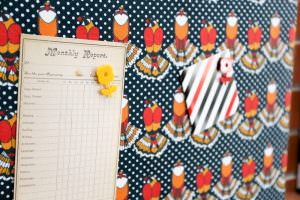 8. Functional Wall Art as Office Organizer
Instead of decorating with a painting or a framed print, choose a functional wall art. A metal plate caddy keeps office supplies organized and adds textural contrast and dimension to the brick wall.
Another functional art piece you can display in the office is a metal art sculpture. An example is a bike mounted on a flat surface — a tasteful way to organize your office keys. You can also use it for hanging your bag and coat.
9. Magnetic Spots
Keep those supplies organized and easily accessible with the use of wall magnets. These magnetic spots are a cute, ingenious way to hang office supplies such as scissors and metal pen holders. Attach a big metal paperclip so you can display important reminders or notes.
For something more durable, use heavy-duty magnets from IKEA. You can hang containers of smaller office supplies, like paper clips and staple wires, or small metal buckets that can hold bigger items on your desk.
10. Ladder as a Magazine Hanger and an Office Organizer
It's not often used for organizing, but a ladder is perfect way to add a little bit of vertical storage while keeping the streamlined look. Hang your magazines and folders on it for some decorative storage in your workspace.
You can also add wire caddies or mesh baskets, to maximize the amount of storage space these compact set of steps provide.
Getting a small office organized and clutter-free is not an easy task. Try some of these clever ideas to make your space tidier and more work-conducive.
Jennifer Lutz is the home décor expert at www.christmastreemarket.com. She frequently blogs about various décor related topics; you can read more here: blog.christmastreemarket.com.