The Beauty of Diversity at Conferences or Benefits of Conference Networking!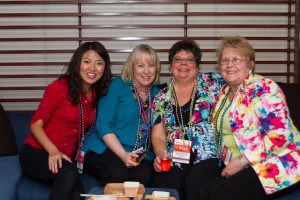 One of the great benefits of attending a conference is the diversity of attendees and the networking opportunities that creates. At our Annual Conference for Administrative Excellence, we have administrative professionals with a variety of position titles, jobs, size companies and industries. We have many assistants who come from across the United States but have had assistants who travel from around the world and an extra flavor to our event. I'm going to talk to you today about the benefits of conference networking because it's really important!
Do you take advantage of this differentiation when attending a conference or does it hold you back from meeting new people? Sometimes when you attend a conference by yourself, it is easy to feel intimated and keep to yourself. Personally, I love to meet people and learn about them and what they do. I often get answers to my questions or roadblocks in my thinking by talking to complete strangers. They offer a completely fresh, objective perspective.
For example, I have been struggling with some details of hiring a sales person for Office Dynamics. I was at the training and development conference in May for my professional development and hooked up with a great young lady who is the Director of Sales for GetControl. I actually hired the owner of her company who is an author, speaker and subject matter expert, Mike Song, to speak at our conference in September. She invited me to breakfast one morning and spent an hour giving me all kinds of valuable information as to what I need to do to find the right person for my company.  Invaluable!!!
When you attend a conference, soak up the diversity. Purposely sit with new people. If you are attending the conference with assistants from your own company, this is especially important.  I notice most people who attend a conference with their peers, stick with their peers. That is normal. But we won't be learning or stretching as much when we spend all our time with our buddies. We need to reach out and make the most of being around interesting people who have different experiences and backgrounds. One huge benefit to conference networking is making new friends and expanding your administrative network!
What do you think about this? Are you afraid to meet new people or to join a group of assistants who work together? What do you do at a conference to feel comfortable meeting new attendees?
I'd love to hear your thoughts on this subject. What benefits have you discovered through conference networking? Share your stories below.
Joan Burge