Learning is a life-long journey. Always continue to learn!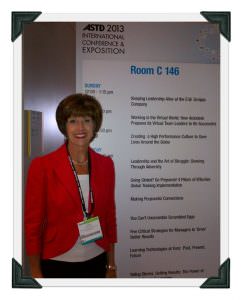 I have been in the training and development profession for 22 years. I have owned my own training company that entire time. I not only present workshops and am a keynote speaker, but I am an instructional designer and author of 8 books. I create learning activities for adults and write objectives, outcomes, and curricula. In other words, education and learning are my business!
Even though I am considered a subject matter expert in training administrative assistants, executive assistants and support staff, I am always hungry to learn more—to become better at what I do. I look for ways to take the good skills I already possess as a trainer and speaker and want to polish them; make them shine like a fine diamond. Then I look for new ideas, concepts and ways to streamline my processes. I have always loved to learn and use every tool and person available to me.
This week, I am the student at the 9,000 attendee training and development conference. While I often feel overwhelmed and do not like such a huge event for many reasons which I will discuss in another blog, I am eager to learn. I am a sponge that soaks up every bit of information, tips, and even capture unique words I hear speakers say. It is easy to think, "I know that" and not attend a particular session but I have found that even when I think I know a topic or have "nailed" a skill, I still learn at least one new thing! As the saying goes, the teacher will show up when the student is ready. Basically, there are no bad teachers . . . just students who aren't engaged.
An offshoot from hearing a good idea is that it sparks my creativity.  I often find myself using that one idea for several other purposes. So I get a double or triple benefit from each presenter's information. I love the keynote speakers. While they are not "jazzy" in their presentation style . . . some just stand in one place for an hour . . . I find that their information is so good, that I am mesmerized. I want more!
I think the key to feeling like the time and money you spend for a conference is valuable, is your engagement in the conference. Are you paying full attention to the speaker or checking emails? Are you listening to capture gems of wisdom? Do you write good ideas down? I find writing helps with my retention. Do you take full advantage of your time at a conference by focusing on the event rather than worrying about what's going on at home or the office? You will get as much out of an educational conference as you put into it.
It has been one year since I attended the ASTD convention and I am happy to be here. This is my first morning and I can't wait to take in all the wonderful speakers. The difficult part about a big conference is there are too many sessions and therefore I always feel like I'm missing out. Like today, there are 3 great concurrent sessions I wanted to attend and found it very hard to choose.
But I will take in whatever I can. I just finished hearing the first keynote speaker of the opening day. He said so many wonderful things that I filled 3 pages with notes. Here is one quote I will share: "A strong passion with moderate aptitude will take you much farther than aptitude with moderate passion."  — Sir Ken Robinson, Professor Emeritus, University of Warwick, UK and author of Finding Your Element: How to Discover Your Talents and passions and Transform Your Life (Viking May 2013).  He also talked about life is a process of improvisation and said, "You earn your resume. You are not born with a resume. Life unfolds as you live it."
Joan Burge
Event of Distinction Founder & Host