What an incredible way to kick-off the Annual Conference for Administrative Excellence! A dramatic entrance into the Cherry Nightclub led guests to their welcome check-point and the administrative team greeted and guided guests they had longed to meet all year through the venue and out to the beautiful poolside evening that was set up especially for them! Our administrative guests from around the nation!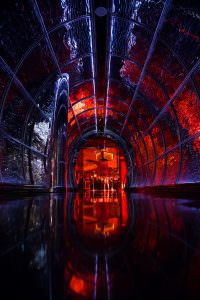 This blog originated from www.OfficeDynamics.com and was written by Live Event Reporter In The Field, Nancy Fraze.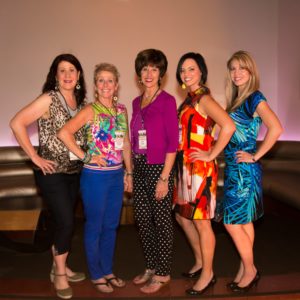 The administrative conference is about to begin!
Tonight we met at the Red Rock Resort Pool Area for a great networking event. After checking in with Bevelina, I wandered over to the bar to cash in my drink ticket for something refreshing, cold, and fruity. 
A steel drum band was playing outside, and the warm breezes blended with the music in a satisfying way. It was close to sunset. We gathered at tables and cabanas surrounding an outdoor pool. People gathered by the food tables with amazing displays of roasted vegetables, meats, relish trays, and a cheese board with dried fruit that was amazingly yummy. Servers passed hot appetizers – there were so many good choices!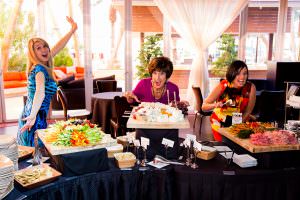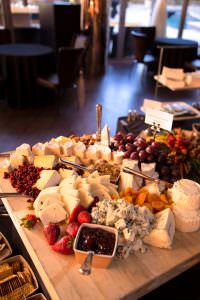 I met many great admins from across the nation. Many were return attendees, which doesn't surprise me at all given the quality of training and the spectacular way Joan has with putting on an Event of Distinction. It was great to reconnect with admins from last year, and even two years ago. We laughed, we got caught up on the news, and we ate and drank and enjoyed the twilight warmth that is Las Vegas. It was beautiful.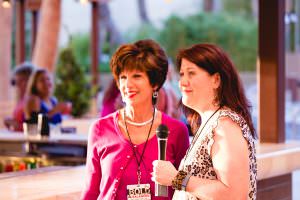 There were also many new faces! They heard from co-workers how great this administrative conference (the Conference for Administrative Excellence) is, and they are now here at Red Rock Resort starting their journey of growth and excellence. Many companies sent groups, and some sent just one. I spoke with one admin from New York — we discussed the importance of what administrators and executive assistants bring to the office. It's not as outsiders; we have skin in the game and we act like it. We are respected members of the team and it is our job to respond to the changing demands of our leader's schedule, travel and projects as their right-hands, their business partners.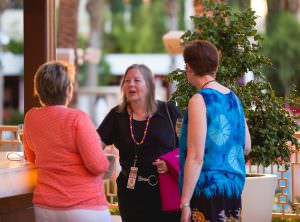 Another two gals met at the bar and discovered they had THE SAME NAME! How great is that?
After a nice time, the music changed and suddenly four beautiful dancers in metallic outfits came out and danced their way into the pool to techno music. They entered the water and synchronized their dance movements into a choreographed dance. People gathered to watch and cheer; I heard people around me saying it was done really well and beautiful to watch.I think that entertainment is really appropriate for an admin conference, because that's what we do each day at work. No, we may not dance our way into a pool (!!) but we do move in synchronization with our organization and in particular, must be choreographed with our leaders and those we support. And when it comes together in sync and in tandem, it creates a synergy and culture that is positive, uplifting and heck, gets a whole lot of work done in record time without re-work! To experience the flow of a great tandem in process takes know-how, confidence, high level skills and on-going finessing. You just can't get there by happenstance. It takes time and attention and training/development.My conversations tonight focused on how people's year (or years) had been since their last time at this administrative conference. I heard about job changes, company mergers and splits, urgent work emergencies, family illness and empty nesting. Others experienced great success: promotion, achievement, educational goals reached and satisfaction with their year.It made me realize afresh that we admins are a resilient bunch. We flourish and prosper wherever we are working and in whatever we put our hands to, because of the training and skills we gathered along the way. We have a can-do attitude (or as one gal put it, after hearing Dan Lier two years ago, now when she is asked how she is, she responds affirmatively, "I'm READY!") that puts us over the top regardless of the economy, politics, company changes or shifts. We don't base our actions on the temperature; we do the work that needs to be done. We make our bosses look good and get ready for important meetings with what they need to make effective decisions. We influence, we nuance, we budget, and we use our soft skills and act as ambassadors of excellence. We thrive wherever we're planted.I think Kris was right. We're READY! We prioritize coming to this development conference for administrators because doing so is an investment in our careers and in ourselves. It's how we face the 21st century and not blink. We become READY.After dancing, talking, laughing and perhaps shedding a tear, it was time to wrap it up so we could get rested for tomorrow's full agenda. Thanks to everyone for a great bonding evening!
Did you miss the 2013 Administrative Conference? Please join us in spirit by reading our Reporter In The Field, Nancy Fraze's blogs. She'll take you there with her magically keystrokes of event detail and play-by-play. You can also join in and view the sessions On Demand at your own pace. Details to be released soon on how you'll be able to do that! Contact us if you wish to be notified of those details when they are announced. 800-782-7139.
Hoping we see you next year!