This post originated at www.officedynamics.com and was written by Reporter In The Field, Nancy Fraze.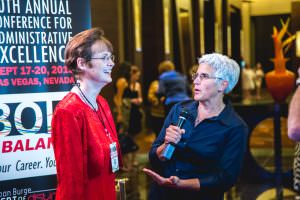 The Gala is a hugely popular event at Joan's conference. Usually admins only get to plan dinners and evening events for their leaders and clients. They rarely get to dress up and experience that kind of event!
At Office Dynamics International, the Gala is an amazingly fantastic party and celebration of the profession and the wonderful individuals who comprise that profession. It is joyous, high quality and always, always, ALWAYS a total blast to attend! I look forward to it as a very special event.
Attendees have the chance to pull out their dancing shoes and party clothes. Everyone sparkles and looks so great. Lots of updo's, fabulous costume jewelry, dresses and evening pants, beautiful jewel tone colors and those perfect LBDs (little black dresses) abounded.
By this time in the conference schedule, people have intermingled and met lots of great admins from all over the country. It's networking heaven!
Admins entered the cocktail area by walking a 25' red carpet runway with lights and photos. It was great fun!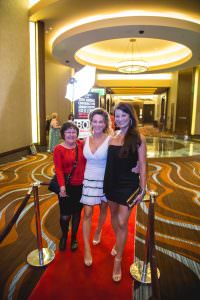 At last, the ballroom doors opened. Beautiful flapper dancers in red fringed short dresses, headbands and lots of feathers, with super high heels, red lipstick and bobbed hair greeted us from around the room. They had long elbow length gloves on. The male dancers were in top hats, black tie and had walking sticks. They were sooooo cute and elegant!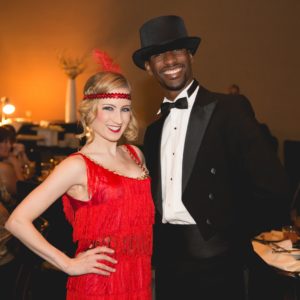 We sat at large circular tables covered in snowy white table linens and candlelight. There was a delicious buffet (and you know, I mean REALLY GREAT FOOD!). Very high-end Italian with so many appetizers, salads, a massive cheeseboard, fruit, capers, Carpaccio, antipasto, meats, fowl, seafood and even a chef sautéing shrimp scampi. They had the BEST pasta sauce – tasted like homemade.  At the end of the long buffet table, the dancers escorted each attendee back to their seat. Everyone loved the special attention to detail!
There was a long dessert buffet and coffee. It was the kind of desserts that are so beautiful they look like they could go on the cover of a food magazine.
But the energy was enhanced by the moment when the ODI staff (Gina, Jasmine, Brian and Michele) called Joan to the dance floor stage.
In honor of Joan and to celebrate her 20th annual conference, they had a star named after her in the Leo constellation, to mark the occasion and because of course, with Star Achievement, stars are Joan's symbol for administrative excellence. Gina told the story of how at Joan's birth, a miraculous prayer by their father saved Joan's life, allowing her to be born safely and for her mother to survive the ordeal as well. It was touching.
Then the lights dimmed and the flapper dancers and tux dancers partnered with them to do a highly choreographed number, "Swing, Swing, Swing!" which really brought down the house with their high kicks and tricks of dancing skill and artistry. Great fun and so entertaining!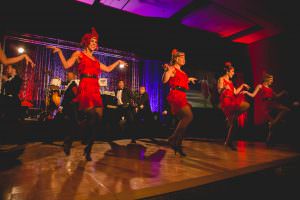 Next, the DJ kicked off the night's dance party with percussion drums, hot music and a pulsating beat. The floor was packed for several hours as everyone enjoyed the event. There was a lot of networking, talking, sharing and laughter as we danced away the evening.
The Gala is a magical, spectacular event of quality and great entertainment. You feel pretty, special, elegant and appreciated. You walk with your head held high and you meet great new people. You think positive thoughts and experience the balance of life pillars and happiness resulting from the experience.
It's without a doubt, one of my favorite aspects of the conference. I see people relaxed, confident, having learned and experience a high-end quality training opportunity, and so happy and thrilled with what they have learned and how the Office Dynamics International staff treats everyone.
You can tell quality when you see it. You can sense true warmth and caring. This event had all of that, and so much more.