Today, more than ever, every dollar spent in business MUST provide exceptional ROI – return on investment. It's the gold standard by which business decisions are made.
Adding to that imperative, a search for administrative training and development results in a muddle of choices. Seems so easy, right? As an assistant, you're a research guru, yet you find it's a jungle out there. Those "lions, tigers, and bears" bite big on expense, inapplicable topics, lack of administrative profession expertise, and do not deliver exceptional ROI. Just try explaining that to your manager! (Not.)
We can help you cut through the noise, the marketing, the "big splash" meant to captivate you through smoke and mirrors by providing a review of the Office Dynamics International Annual Conference and why it not only differentiates itself from others but why it DOMINATES the profession's entire training panorama.
ODI has the Energy, Experience, and Expertise not just to host a conference but to create a long-lasting experience for Attendees.
Consider the following when selecting your Conference:
Location, Location, Location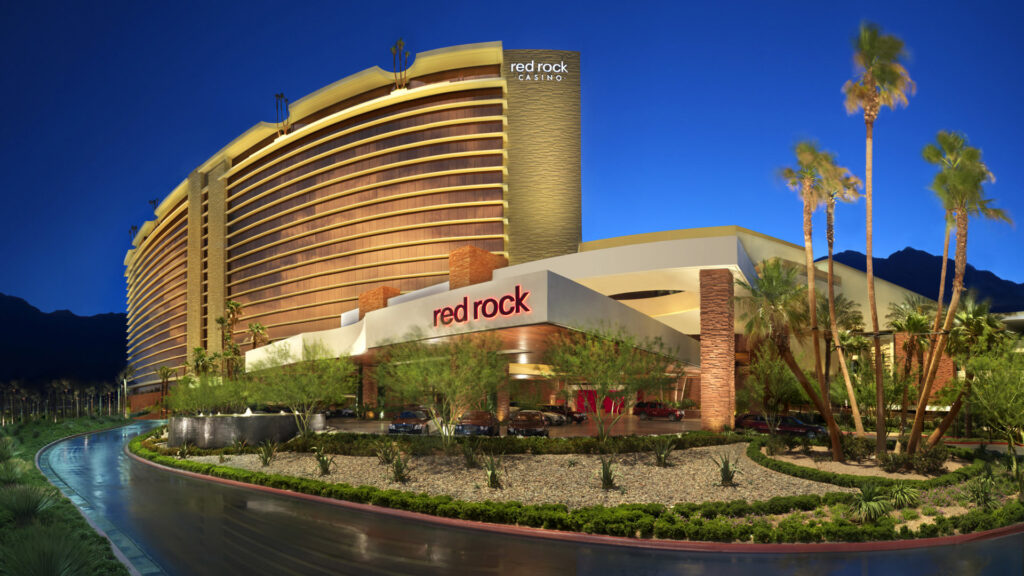 "Others" change locations annually and choose distracting, overcrowded settings that draw attention away from the meeting itself. The location is busy, confusing, and frantic, which can be frustrating and tiring.
ODI offers an annual intimate gathering in a world-renowned upscale, elegant, and modern venue, Red Rock Resort, in stunning Las Vegas, Nevada. You'll be able to focus, but it will be beautiful. From your well-appointed hotel room, you'll enjoy gorgeous sunrises over the City or Red Rock Conservation area's natural beauty.
You'll enjoy a free evening to experience entertainment opportunities nearby, including the Strip!
Attendees Experience 100% of Conference - No FOMO!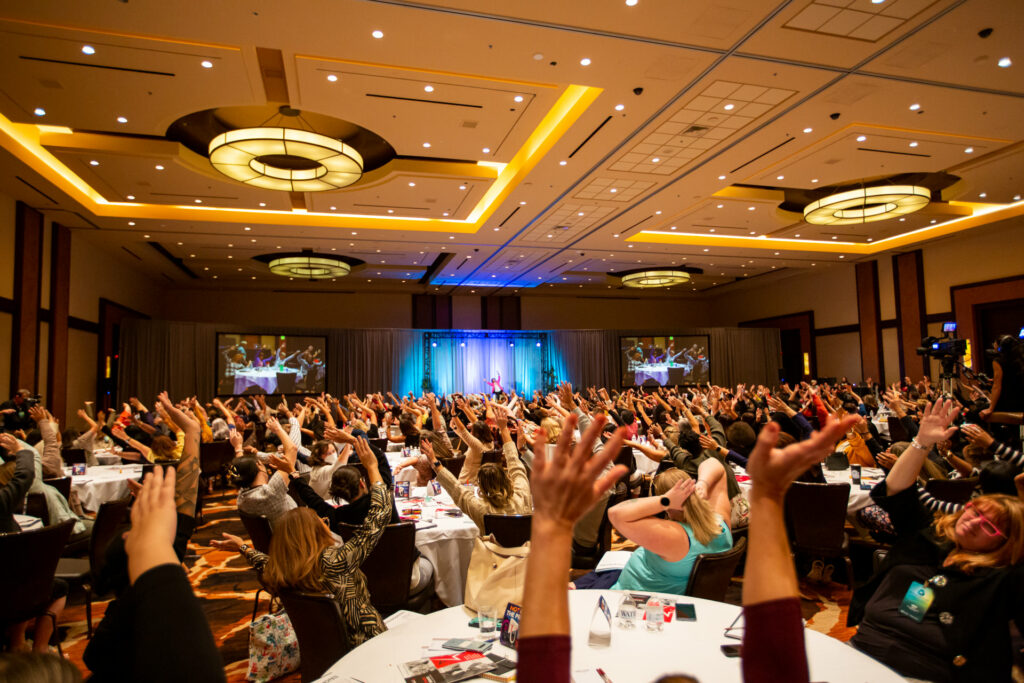 "Others" make you choose between workshops at registration, with little detail provided. They're in scattered locations, so you have to run around a concourse to find them. They are often sold out, so you don't even get what you wanted or go with whom you want.
ODI brings you 100% of the Conference, EVERY speaker, EVERY session, EVERY experience, EVERY time.
ODI's Conference is entirely held in an intimate ballroom setting, so Attendees experience the whole Conference together. You won't get lost finding breakout sessions or frustrated having to pick between speakers.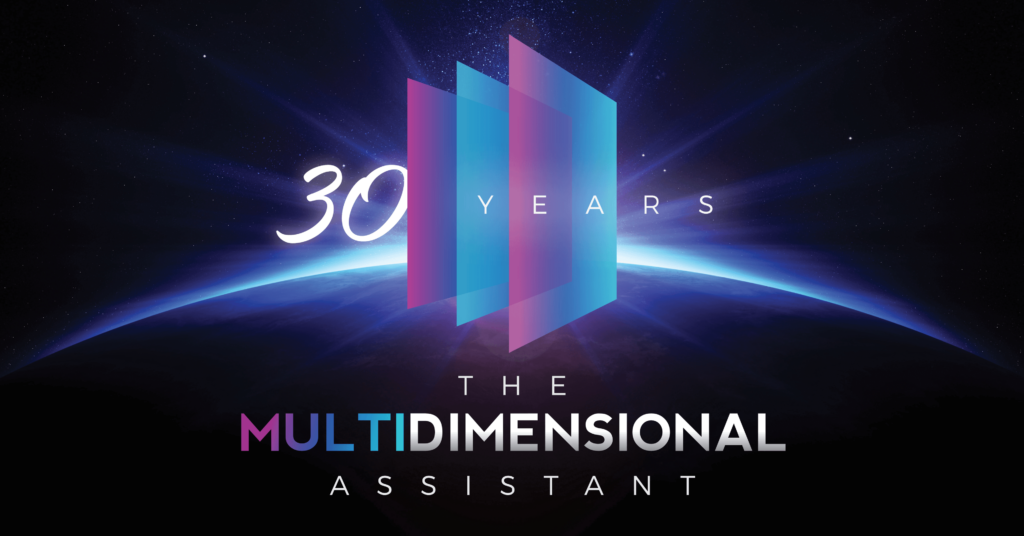 "Others" are all over the map with themes, speakers, and agendas which often are on the fringe periphery of what matters most to the administrative profession. They have no overarching theme to tie the material together in a relevant way – it's often scattered and disjointed.
ODI offers a NEW theme every year! There is no "same old, same old"! Each year is different and innovative.
Joan Burge is very hands-on with the planning and execution of the Conference, thoughtfully determining the Conference theme, which is woven throughout the entire event—from the Social Fusion Mixer to the Conference Opening, the hand-selected slate of speakers and their topics, the Joan Burge Gala, the Teambuilding Activity—down to the final closing moment.
In 2023, Office Dynamics International will celebrate the 30th Anniversary of the Conference for Administrative Excellence, with the theme, "The Multi-Dimensional Assistant." This will be the year's must-attend event for administrative professionals.
Welcome Reception vs. ODI Social Fusion Mixer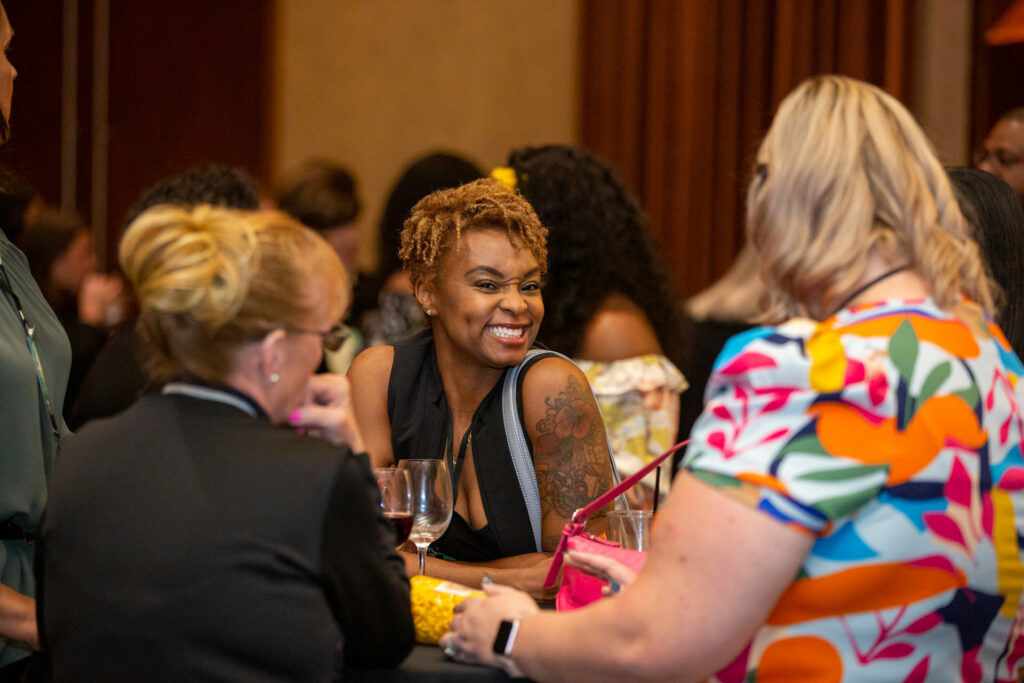 "Others" may have a reception, but they can feel "check the box." You know how that feels: no atmosphere, no welcome. Try queuing in a massive, sterile ballroom with 1,000 other assistants, hoping there's cheese and crackers left when you get to the serving table!
ODI's Social Fusion Mixer features a dramatically lit, intimate ballroom, with floor-to-ceiling glass doors opening to a terrace overlooking the Red Rock mountains and a luxurious pool area. Attendees chatted while watching the evening sky deepen to twilight. First-time Attendees who arrived alone met and made instant friends. In fact, 79% of this year's Attendees were first-timers! Together, we witnessed a single shooting star and city fireworks and "oohed" together like old friends. Jazzy, soulful live music was performed by Tanya Tucker's niece, Cali Tucker, who flew in from Nashville and set the tone for a great evening!
We enjoyed a well-coordinated menu of hot hors d'oeuvres, tantalizing desserts, and icy cold bar drinks, delighting the most discriminating palettes among us. All at no additional cost!
Best of all: Joan Burge, her caring staff, and the Conference speakers were THERE TO MEET Attendees. Yes, you get to greet them, snap a selfie together, and ask a question. They warmly welcome you like family.
Conference Start vs. ODI BLASTOFF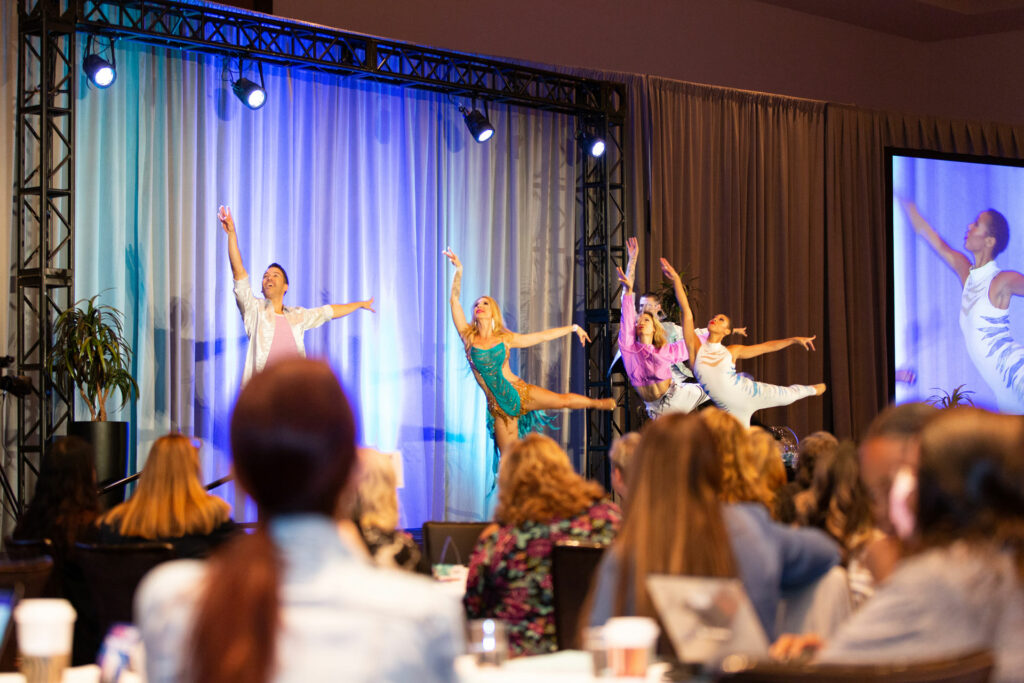 "Others" open with a call to order, a review of the agenda, or perhaps some ice-breaking entertainment.
ODI's conference opened memorably. The emcee, dancers, music, and visuals highlighted the purpose and higher strategy of the conference theme: evolving growth, against the backdrop of Santana's cool riffs in Interplanetary Party. From the opening day's first note, the current year's theme was woven through everything like a detailed tapestry.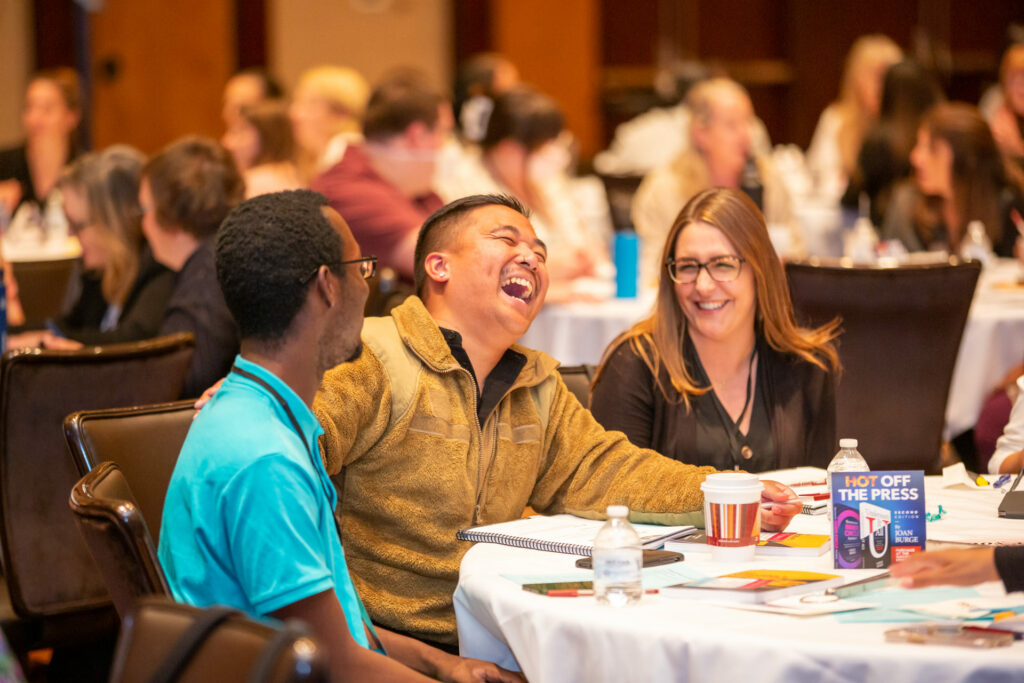 "Others" may or may not provide a meaningful activity to foster relationships and increase collaboration skillsets.
ODI engages Attendees right away and helps them get to know their tablemates in a relaxed, fun manner. The team-building activity ties into the theme and has a strategic purpose. In addition, it exercises Attendees' brains, synergy, and creativity. Win-Win!
Illegible Notes vs. Keepsake Conference Workbook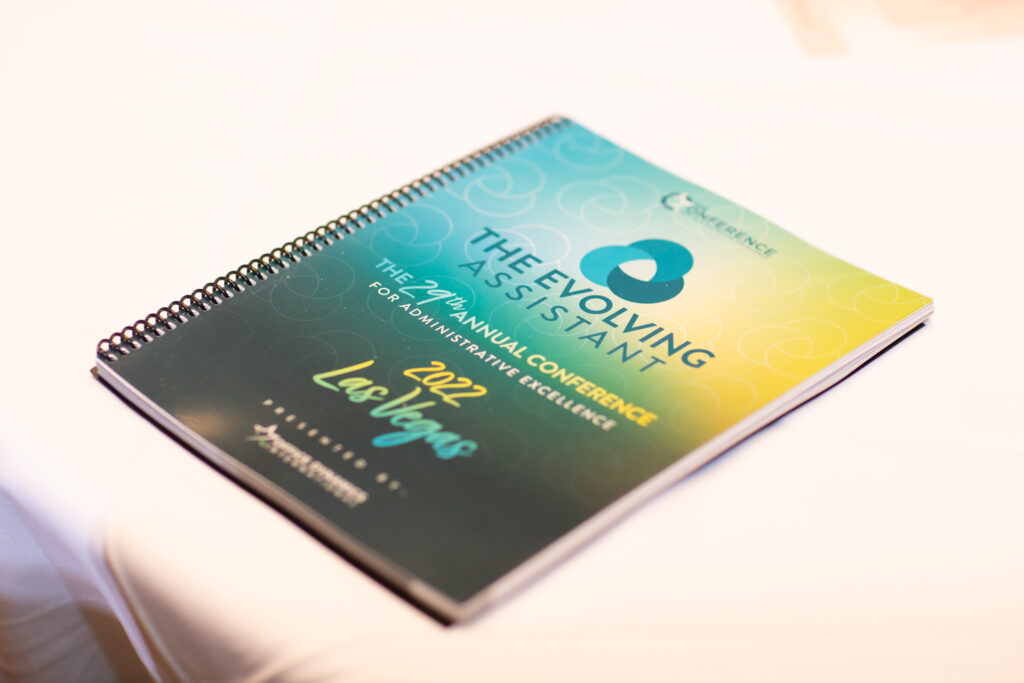 "Others" expect you to bring your own notepad and pen and handwrite any notes you want to retain "freestyle," causing you to miss things as you struggle to prepare notes that later on, you look at and think, "Why did I write that? What does it mean?"
ODI's got your back! We prepare a FREE beautiful spiral-bound workbook that details the Conference, so you don't miss a beat! You'll have ready access to guest terms; Joan Burge's bio; ODI's "We Passionately Believe" statement; the Conference Agenda and map; sponsor identification pages; speaker slides, outlines, and/or fill-in-the-blank materials; Conference and logistic information; modern graphics … EVERYTHING you need to fully leverage and retain the Conference Experience in an organized, detailed manner that you will refer back to again and again at your desk.
VIP Private Gathering with Joan Burge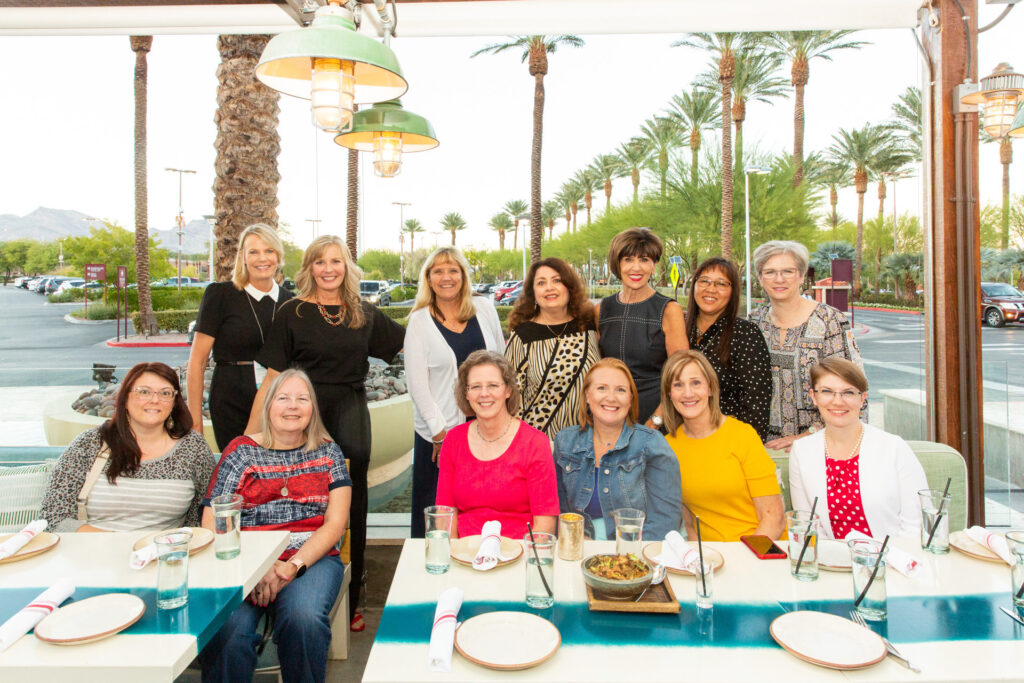 Attendees who have 5 years or more of consecutive attendance are invited to meet with Joan Burge at a VIP Private Gathering, at no additional cost. Some Attendees have attended 12 years in a row! Each year Joan selects something to do and somewhere to meet. The lucky VIPs sit, chat, and laugh together while enjoying heavy hors d' oeuvres and drinks. One year, they enjoyed private bowling lanes with music and couches, food, and drinks.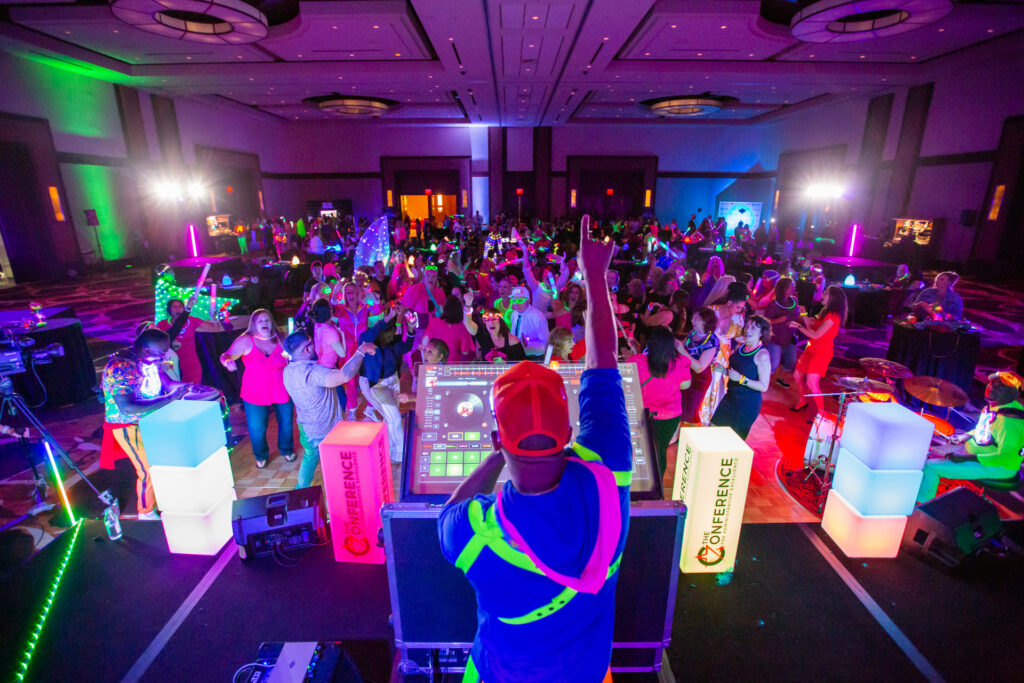 "Others" may offer a party for an additional cost and can require traveling on a crowded bus to an offsite location.
Registration to attend the Joan Burge Gala event is included in your Conference cost. You're welcome!
The event is always held onsite in a magically transformed setting. No commute!
ODI changes up the Gala theme every year and ties it into the Conference theme. They use a professional entertainment group to bring entertainment from the Strip, a well-known DJ, performers, and dancers—all customized for ODI in an intimate, magical, fun environment created just for you at the Red Rock Resort.
You'll find Joan Burge, the ODI team, and many Conference speakers on the dance floor with you … sometimes even playing the drums! Did anyone say, "Conga line"?
Attendees may dress to the theme, which makes it even more fun and engaging. The emcee is awesome at bringing Attendees into the event so no one feels on the sidelines.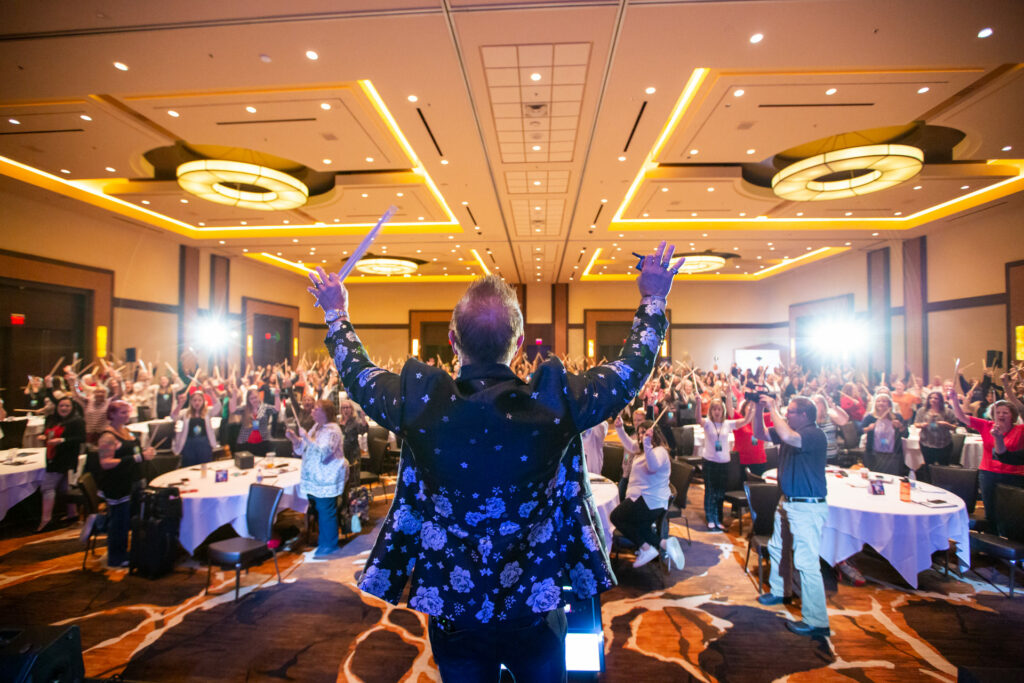 "Others" might have some great speakers, but they may be just all over the place with topics. Their speakers may not even discuss the profession itself!
ODI's slate of speakers are HAND-SELECTED by Joan Burge, and they absolutely will present topics related to some facet of the Conference theme, tied to assistants and their roles.
Speakers provide a wide-reaching range of applicable training that assistants can incorporate into their work as soon as they return to the office.
Assistants will learn how to embrace their careers, build their skillsets, increase their confidence, and learn tangible ways to increase their value to the organization.
Office Dynamics Success Store!!!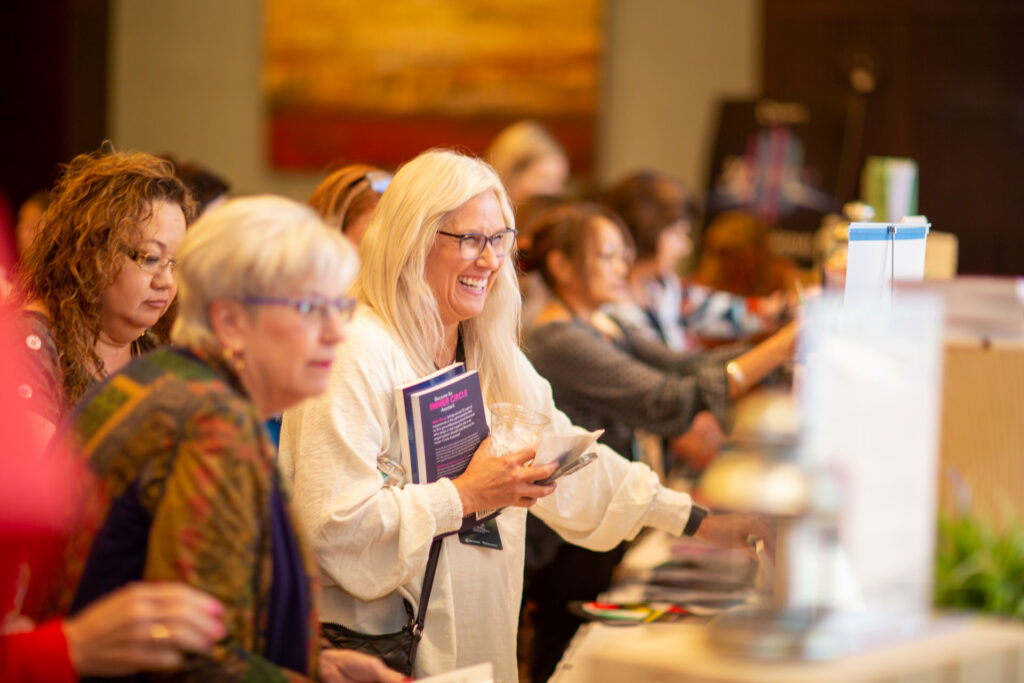 The ODI Success Store is like walking into a Barnes & Noble or Hallmark store for the administrative role. It is in a beautiful, dedicated room with floor-to-ceiling windows and offers a plethora of books, journals, perfect writing instruments, notepads, and state-of-the-art items that appeal to administrative assistants. Better than candy and twice as appealing!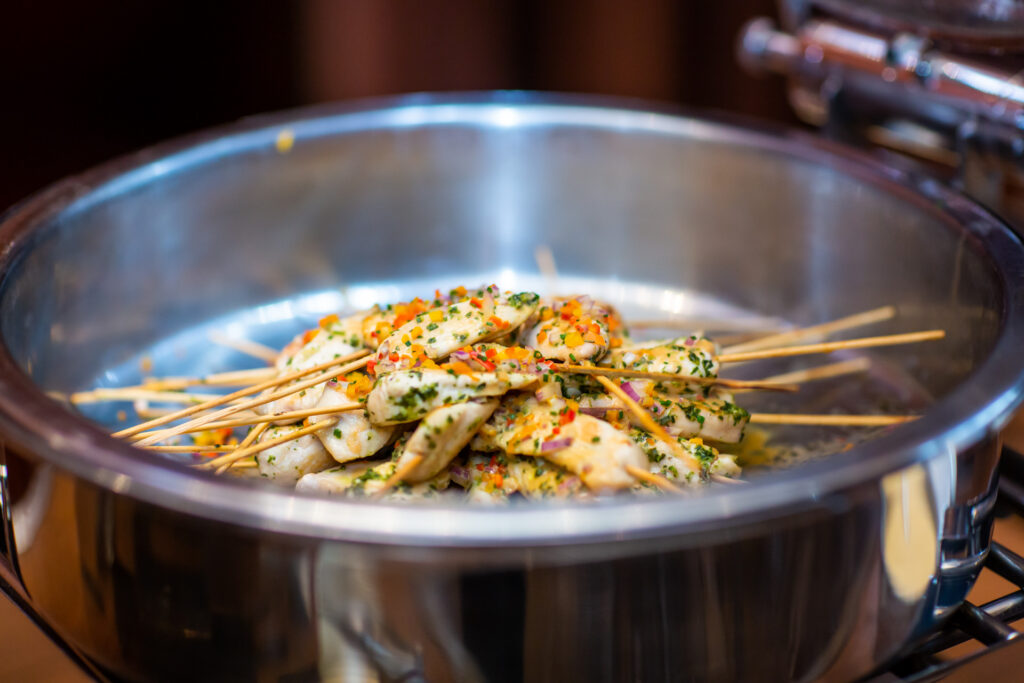 ODI knows that hot, hearty, well-seasoned, gourmet food is what Attendees want, expect, and need at breakfast and lunch. Enjoy a chef-created meal in an upscale restaurant setting, in a beautiful environment indoors, or on the peaceful, shady patio overlooking the pool. To ensure Attendee safety, all foods are carefully labeled to identify potential food allergens.
Yes, there will be hot and cold beverages and yummy snacks, AND healthy choices at breaks!
The One & Only: Joan Burge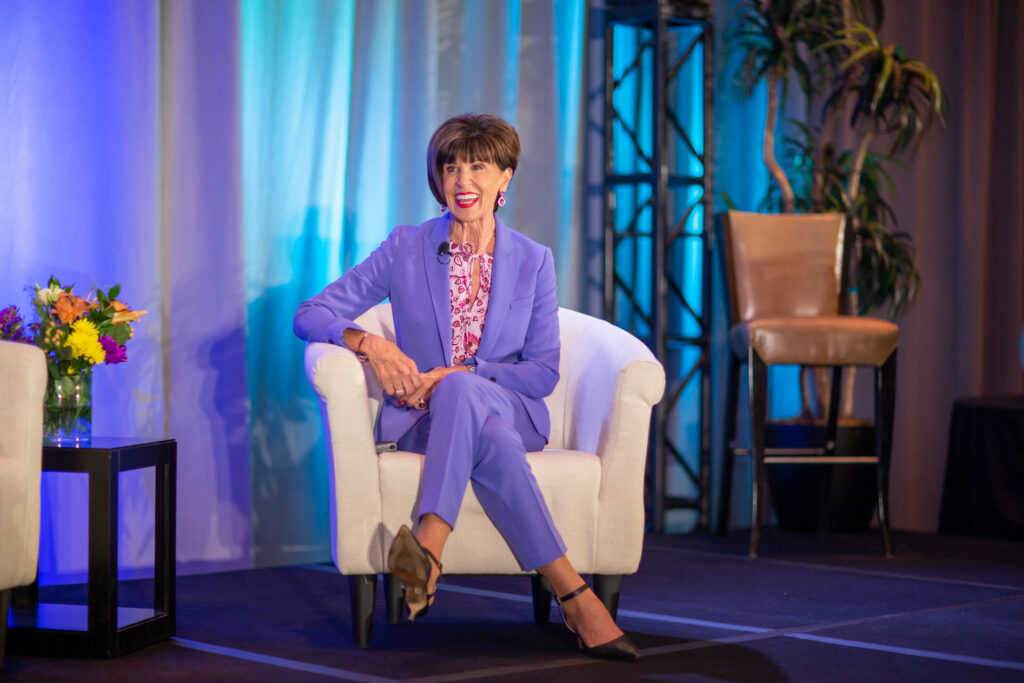 Joan Burge may hate to brag, but she is THE industry icon, champion, and warrior who pioneered admin-specific training. She has devoted herself to YOU and the role for 32 years.
Assistants worldwide know she is passionate about administrative excellence.
Joan was an admin for 20+ years in a variety of industries before founding Office Dynamics.
Joan Burge Innovation Award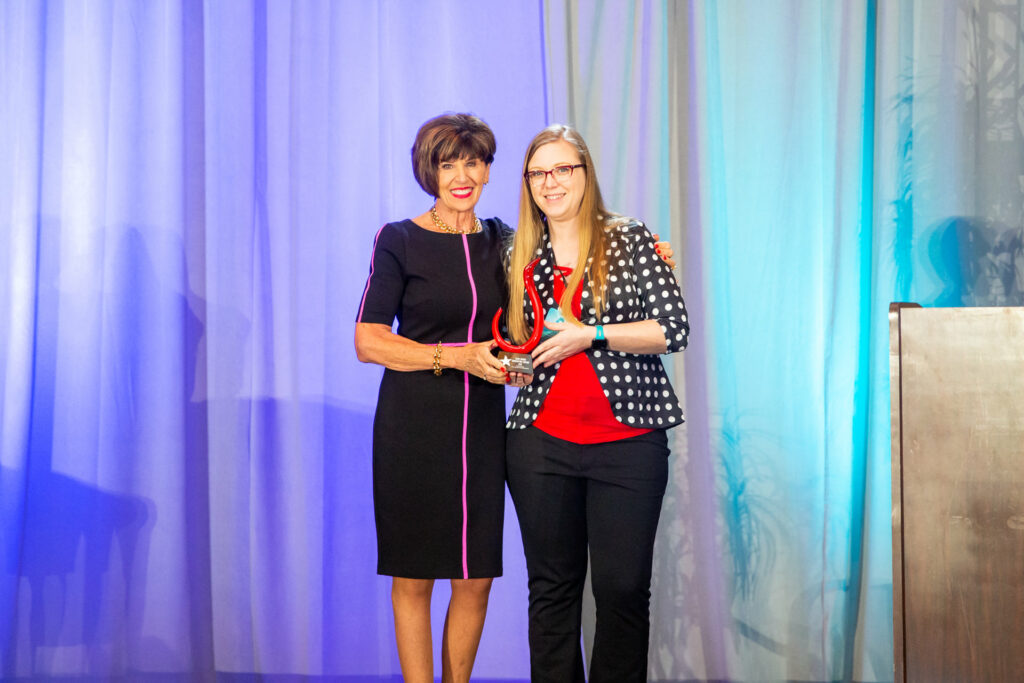 In 2019, Joan Burge created the Joan Burge Innovation Award to celebrate outstanding ideas birthed by administrative and executive assistants. She wanted these forward-thinking assistants to receive the public acknowledgment they deserved and to be celebrated by their administrative peers in a setting where they could share their idea with other assistants.
ODI Conference Ambassadors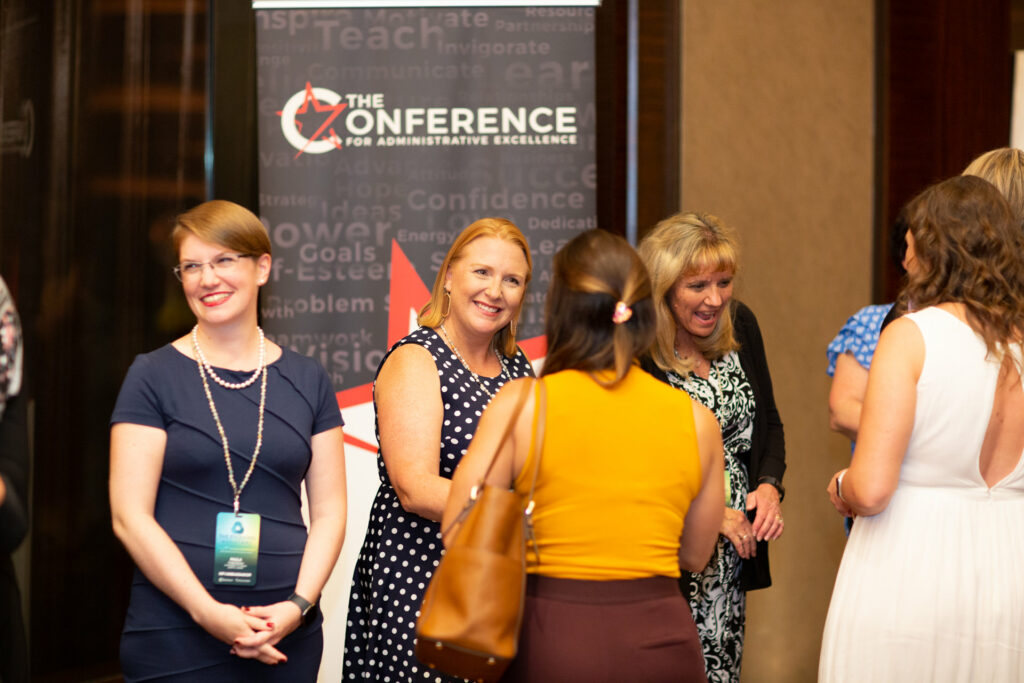 ODI has caring, warm staff who work hard to make your Conference experience exceptional. In addition, there are ODI Ambassadors. These special individuals are those who've attended 5 or more ODI conferences in a row—some have attended 12+ years in a row! Ambassadors are hand-selected because they are intimately knowledgeable about the event, they know the lay of the land, and are familiar with Office Dynamics International so they can assist others, especially first-timers and international Attendees.
ODI's Motto: Treat Everyone Like Family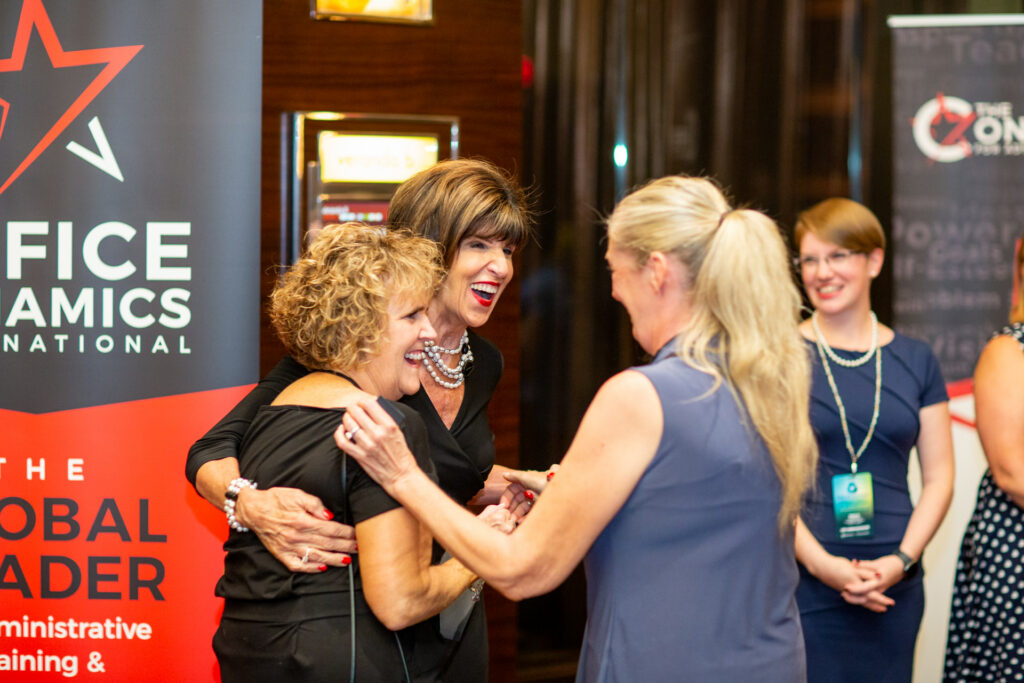 ODI views Attendees as members of the extended ODI family. Joan and her team meet and mingle with Attendees throughout the Conference.
The ODI team is not only approachable, but they also strive to reach out to Attendees with warmth and friendship
So, Who Will You Meet At ODI's Annual Conference for Administrative Excellence?
Everyone! ODI welcomes every gender, culture, age, nationality, and team. We welcome YOU!
ODI DOESN'T JUST TRAIN. WE INSPIRE. WE MOTIVATE. WE CHANGE LIVES!
A great BIG Thank You to everyone involved with the planning & execution of last week's conference!! I know there were many hours of blood, sweat & tears that went into such a successful event. This was my first time attending, & certainly won't be my last. In fact, I'm hoping to bring several others back with me. It reignited my passion for my role and work, has sparked many new ideas, I made several new friends, had a blast at the Neon Nights Gala & enjoyed some amazing adventures (Jeep Tour & Zip-lining) in my downtime. Thank You!