[Guest Blog by Debbie Gross, Chief Executive Assistant to CEO, John Chambers, Cisco Systems]
Why Go To An Administrative Conference Anyway? 
There was a time that I would have asked that question and my other comments would have been – I don't have the time to take several days away from the office and besides, they are expensive!
After attending my very first Administrative Conference hosted by Office Dynamics over 15 years ago, I was somewhat embarrassed to think about what I had been missing in my administrative career by NOT going to one.
As business and technology continues to change, administrative conferences are now one of the main avenues by which administrators can get the most up to date tools, training and knowledge to keep up with these changes.  The benefits of attending an administrative conference include gaining new insights both business and personal, from knowledgeable and credible speakers, education and training on subjects that are relevant to our administrative world from reputable trainers and more importantly, the opportunity to share best practices and network with administrators from all industries. I go to at least one conference per year and I have made it part of my plan and yearly career development goal!
I have attended several key administrative conferences in my career and each conference is different and unique. Do your research! It is definitely important to investigate any administrative conference you may have an interest in attending.  Who are their guest speakers? What kind of training will be offered and by whom? What extra activities do they offer in terms of networking or social events?
You can choose from extremely robust training tracks and guest speakers with as many as 1000 administrators attending to a far more intimate conference with typically 200-250 in attendance with greater opportunities to network and more personal attention given to each attendee. There are also new administrative conferences coming on to the scene which may have their own unique styles and agendas so it is definitely important you do your homework and find the conference that is right for you!
Here's your challenge should decide to accept it. The biggest hurdle most administrators face is the cost of the conference. If you look at the overall conference in terms of what it offers, you may find that the investment is well worth the spend and the return on investment (ROI) is even greater. Educate yourself on the conference and how it will benefit both you, your principal and the organization you support. The added value of attending any conference is the network you build with other administrators – a powerful tool in itself! It can be an easy sell if approached correctly. If the budget becomes the issue, think about personally investing in yourself as you would in a pair of shoes, a business suit or even a vacation. The benefits you will reap in the years to come in your career.
It is time that we invest in ourselves and our profession as other professionals do.
You will never know what opportunities are available to you if you don't ask so I encourage you to step up an out of your comfort zone as I did and make attending an administrative conference your "career" development goal!
Are you still wondering why attend an administrative conference or are you wondering what the heck you have been waiting for? Register today and secure your space – or let us know in the comments below what's holding you back this year.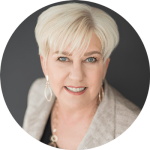 Debbie Gross, CEA, has over 30 years of experience in the administrative field. She joined Cisco Systems in March 1991 as the executive assistant to John Chambers, then Senior Vice President of Worldwide Operations who became President & CEO in 1995. She has been instrumental in promoting Cisco programs that support administrators and is a strong proponent of best practice sharing and career development through mentoring programs and training opportunities in her community.
She is a founding member of the SVCA (Silicon Valley Catalysts Association), an organization of Executive Assistants who support CEOs in the Silicon Valley.