Join our Reporter In The Field, Nancy Fraze, as she gives you the play-by-play in from her point-of-view. She will guide you through the event from start to finish, sharing poignent details and 'AHA' moments. This administrative event is designed for assistants by assistants – experience these moments with us allover again through Nancy's words. 
Day 1 dawned with a blazing sun and bright early heat. We had a full day's agenda ahead of us! The administrative field has changed dramatically over the past decades. We pursue excellence through diligence, training, development and by seeking out high-quality learning. What a way to GROW!
This is no junket tour; we were downstairs networking by 7:45 am in Red Rock's Pavilion Ballroom at a wellness breakfast and relationship building segment. Following that, we walked over en masse to the Summerlin Ballroom for our conference day.
As I walked by Veranda C, I saw that Brian Burge and Bevelina were hard at work putting the finishing touches on the many displays of helpful resources and Star Wear gift items in the Office Dynamics International Boutique. But, that would have to wait because at 8:30 the Opening Session with Joan Burge was kicking off the day (and you never want to miss a Joan Burge event kick off).
We all were seated at large round tables facing the stage; great up-tempo music played to energize us. At each place setting were a folder and a resource conference booklet, spiral bound. There were activity handouts and information handouts too.
The stage was large, with a mega screens on each side. The stage was well-lit and a beautiful, sparkly curtain picked up all kinds of light. There was a sofa and chairs, and potted plants. It looked like The View! I was excited to hear the speakers and listen in on their conversations.
The lights dimmed, and a new song filled the room with soaring music as male dancers carrying huge banners on poles took the stage. Each person had a solo dance segment, and as they each danced they displayed their banner. They were the 5 Life Pillars: Career, Family, Financial, Spiritual and Wellness. Soon, female dancers in long bright dresses filled the room, joining the men with banners.
The women had long ribbons and they danced and twirled with the ribbons around the room and up on stage. It was pretty amazing! I loved the way the 5 Life Pillars intertwined with the ribbon dancers, very much like how our many parts of life intertwine all the time: I bring myself to work, and with me comes my wellness, my finances, my spirituality, etc. Yes, I believe in "work life balance" but in reality each pillar affects the others.
We watched a video segment by Jasmine Freeman, discussing about how she manages it all: work, responsibilities, family, mothering, wellness, her financial goals and spiritual growth. She works on each one through the week at some point. It's a fine balancing.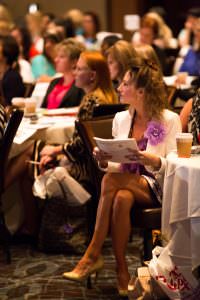 Joan then took the stage and welcomed us. She spoke about The Journey of Living the 5 Pillars, first by briefly reviewing the 2012 Be Bold Mastering Exceptional Leadership One Bold Step at a Time concepts. She mentioned:
Lead Yourself – take the lead in the 5 Pillars of your own life. Become a role model for those around you. 
Give Equal Attention Over Time – we need to see that. True balance doesn't happen, but we can mindfully make time over our day, week or weekend to focus on more than just one or two of them. 
Interwoven – it's hard to transition from work to home and manage your Pillars. We must realize they all affect each other. Wellness affects all the others and is critical to all others.
Be Bold – it takes courage to lead you in all 5 Pillars. But it's about respecting yourself and your life enough to do what's right for you! Stay strong; it won't always be popular. Others may not be inspired but may try to "suck you back in" to negativity and status quo. Don't let them! By being strong you do not have to be aggressive or abrasive. 
Joan shared an inspiring quote from Susan Biali: "Be brave! Realize that the right choice for you, may not be the most popular, BUT you offer more by your example than by your compliance."
Joan admitted that it can be easy to get off track, but then we get right back onto track when we do. "We choose to live and give attention to the 5 Pillars," she said.
Joan continued her speech, moving on to Daily Huddles, which the Office Dynamics International (ODI) team has had daily for 18 months. They are committed to their Huddles because of the difference it's made in their work and lives. Each day someone brings something and takes a turn leading the others, related to the 5 Pillars.
She next moved to People We Met, Tools We Used and Actions We Took. Favorite resources were:
Joan talked about how stress affects women badly and often causes depression. I was amazed to learn that each year; depression affects 17 million Americans while anxiety affects more than 40 million. It's clear that we need to get a handle on our 5 Pillars so we can avoid these statistics!
Joan and Jasmine led us into The Wellness Challenge, describing what they do and giving us the tool they use to keep on track while working. "We live in a world where we accept abnormal as normal," said Joan. Further, she said that WHO (World Health Organization) predicts that by 2020, depression will be the second largest cause of death worldwide. Sobering words!
She also mentioned a resource by Darren Hardy, the publisher of Success Magazine, The Compound Effect.
The great thing about Office Dynamics is that because they are the premier experts in the administrative world, they know what it's like up front and personal. They provided us a lengthy list of resources on how to build the 5 Pillars into our work and lives, with two full pages of resources, broken out by each pillar. ODI makes it easy to grow and improve; they don't make you struggle and wander aimlessly looking for ways to make things happen. They are a catalyst to ignite your power, passion and "want-to" by helping us improve while still at the conference! Many assistants I spoke with said they could utilize this resource list immediately to create Daily Huddles back at their offices. (You can even join in and listen to these Daily Pillar Huddles!)
We learned about Foundation Competencies; just as skills competencies support the administrative world, so do Pillar Foundation Competencies support the 5 Pillars.
Joan next discussed our inner circle, which is comprised of those who support us in our pillar strengthening. Do people tear us down or support our growth?
Next, Joan provided information on how to pull this all together. We looked at What This Means to You. We learned about the pace at which we work, how to mold our career, excel in a competitive marketplace, build personal satisfaction and enhance our self-image, build confidence and equip ourselves to face challenges and land on our feet, wellness intact because it affects all other Pillars. The 5 Pillars concept and competencies will change our lives and provide a model and direction to grow.
We learned that you don't wait to ask permission to be confident; you move out in self-leadership and lead yourself. Today, so many executives and leaders have CPAs, life coaches, financial advisors, tech experts and personal trainers. They want their support team and direct reports to live and work just as successfully as they do. That's what executives need and want!